---
Calls for quality IPOs, more activity
Fears impacts of currency devaluation by Saudi Arabia
Expects well regulated market with new SEC Act
By Shabiya Ali Ahlam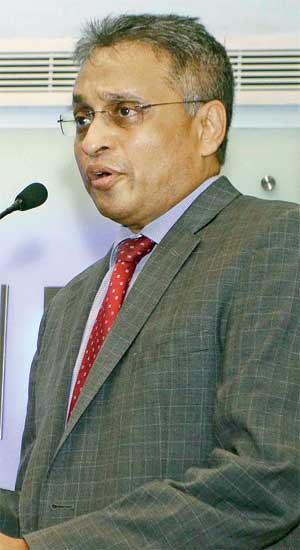 Calling for fresh impetus to boost activity in bourse, the head of Sri Lanka's stock market yesterday asserted it is imperative to be conscious of the "adverse" global conditions to ensure minimum impact.
With key capital markets crashing all around the world, and the global economy entering into a recession amid a steep decline in oil prices, the Colombo Stock Exchange (CSE) Chairman Vajira Kulatilaka asserted Sri Lanka is not entirely isolated from such external factors.
"We cannot take out the fact that there is a huge world problem coming in. A volatile market is what we can expect here also. I am positive, but conscious at the same time of the world conditions," said Kulatilaka.
A key factor that is worrisome, he added, was the likelihood of Saudi Arabia devaluing the Riyal, a move the country is currently contemplating on.
The last time Saudi Arabia devalued its currency was almost 30 years ago.
This will negatively impact Sri Lanka with the Middle East being the biggest contributor to the nation's worker remittances.
However an optimistic Kulatilaka said a small country such as Sri Lanka does not require "a lot" of effort to progress to the next level.
"We can expect negativities from the world but if we can get our act together then the stock market will boom."
He pointed out that the need of the hour for the capital market was increased activity. Quality Initial Public Offerings (IPOs) and more activity in the CSE trading floor could help, he said.
Looking back at the stock market in the recent decades, it is IPOs of top institutions such as Development Finance Corporation of Ceylon (DFCC), National Development Bank (NDB), Lanka IOC, and Dialog Axiata, to name a few, that helped boost the capital market at that time.
"Now the sentiment is bad because whatever you hear from the world is bad. The stock market will witness a boost if institutions such as SriLankan Catering come in, and if active bidding takes place for entities such as Lanka Hospitals. These will be positive aspects that would help create a turnaround," professed the CSE chief.
Frowning upon certain irregularities in the market, Kulatilaka said the new SEC Act which was being drafted could come in handy curbing those market misconduct cases.
A salient feature of the proposed new SEC Act would be the application of civil law to punish market offenders instead of criminal law as in the existing Act.
When criminal law is applicable, a case has to be proven beyond doubt, a virtual impossibility in complicated capital market cases.
The new SEC Act is likely to be enacted in the first quarter of 2017.
"The new Act is a must. We don't want to rush it since we have to properly draft the laws, which is a rather difficult exercise. But we are doing it by working together with consultants," noted Kulatilaka.





Shares fall for seventh sessions on margin calls


Reuters: Sri Lankan share index fell for a seventh straight session yesterday due to panic selling, led by margin calls after the market fell over 3.5 percent in the past six sessions, brokers said.
Fears over investors shifting to risk-free assets such as government securities due to rising yields in government securities also dented sentiment.
The main stock index ended 1.74 percent or 115.97 points down at 6,534.35, the lowest close since July 7, 2014. The index fell as much as 1.85 percent, posting its biggest fall since Aug. 24, 2015.
"Market came down due to margin calls and panic selling," said Dimantha Mathew, research manager at First Capital Equities (Pvt) Ltd.
The bourse dipped further into an over sold territory yesterday with the 14-day relative strength index at 17.311 points versus Monday's 22.844, Reuters data showed. A level between 30 and 70 indicates the market is neutral.
The turnover was at Rs. 997.2 million ($6.94 million).
Foreign investors were net sellers of Rs.271.4 million worth of equities yesterday, extending the year-to-date net foreign outflow to Rs.1.95 billion, compared with Rs.4.43 billion outflow in 2015.
Local investors are worried of more monetary tightening after the Central Bank raised commercial banks' statutory reserve ratio by 150 basis points with effect from Jan. 16.
Following the central bank's move, the yield on 91-day t-bill rose 19 basis points to an over three-month high of 6.78 percent at a weekly auction yesterday.
Shares in Nestle Lanka Plc fell 2.09 percent, Lion Brewery Plc lost 9.61 percent and conglomerate John Keells Holdings Plc closed 1.83 percent lower, dragging the overall index.
Commercial Bank of Ceylon Plc, the country's biggest listed lender, fell 1.89 percent.