---
By Chandeepa Wettasinghe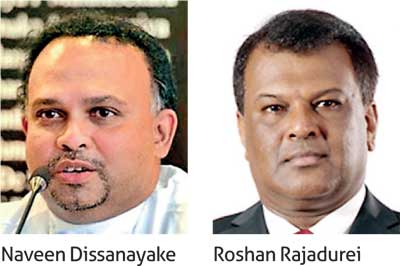 Prime Minister Ranil Wickremesinghe has instructed that a task force be set up to look into the tea industry following discussions with the planters this week.
"The Prime Minister wants to set up a task force and he has told the Plantation Industries Minister to do so," Sri Lanka Planters' Association Chairman Roshan Rajadurei said.
Plantation Industries Minister Naveen Dissanayake said that this would be set up at a ministerial level.
Industry stakeholders however have been calling for task forces to be set up at Prime Ministerial or Presidential levels.
Rajadurei explained that the Prime Minister focused on the global macroeconomic issues of the industry during the meeting and he wants Sri Lanka to enter new markets.
"The Prime Minister was looking at the macro situation. He wants to look at entering markets like India, Pakistan and China, which have high populations, and to regain the lost markets like Egypt," Rajadurei said.
Since markets such as Egypt and Pakistan seek the cheapest teas, they had moved to Kenyan teas from Ceylon tea decades ago, but did return to the Colombo auction in recent months when Mombasa auction prices overtook local prices due to a fall in supply resulting from bad weather.
Rajadurei added that the Prime Minister wants to open discussions with the foreign ministries in these countries and remove the barriers and simplify bureaucratic processes, which hindered Ceylon tea from entering in the past.
"We will also look at removing the 150 percent tea import tax Turkey has," Dissanayake added.
However, even if fruitful negotiations take place with central governments in countries like India and China, the regional authorities that administer regional tariff and non-tariff barriers may yet make processes almost impossible for Ceylon tea. Rajadurei said that the Prime Minister wants the tea industry to enter Western markets with innovative and diversified tea products as well and wants to go ahead with the tea marketing campaign soon. "He said that the problems in the Middle East and Russia are not going to be resolved in the short term, so we have to enter new markets," Rajadurei added. Russia and Turkey currently occupy the top two spots in Ceylon tea exports, followed by Middle Eastern countries. These markets absorb around 80 percent of Sri Lankan tea. However, it is interesting to note that the tea exporters who engage with the wider world and promote Ceylon tea were not invited for the meeting with the Premier. The Sri Lanka Tea Exporters' Association (TEA) has continuously urged governments in the recent months and years to not treat the production, brokerage and exporter aspects in the same manner, as they are specialized in different aspects of the industry and have different problems.
They also requested the government to deal with industry associations instead of with individual stakeholders, regardless of their seniority.
Despite inviting the planters, the Prime Minister had not discussed the most crucial current issue of wage negotiations with the trade unions.
"The Prime Minister did not discuss that, but I informed that we must go for a productivity-based wage model. Even smallholders find it difficult to pay wages," Rajadurei said.





Tea and rubber subsidy scrapped


The tea and rubber smallholder guaranteed subsidy scheme has been scrapped, Dissanayake said.
"We felt like it was not economically viable," he added, despite saying earlier this month that a changed form of the subsidy would likely resume.
The tea subsidy was placed on hold on September 30 as it had exceeded budgetary allocations, while the rubber subsidy was set to continue, Dissanayake had said.
The interim budget in January had implemented the scheme, aimed at giving Rs.80 per kilogramme of tea leaf and a Rs.300-350 price per kilogramme of rubber of different grades.
The regime had earmarked Rs.5 billion for tea and Rs.3.6 billion for rubber for the remaining 11 months of 2015, and had initially forwarded only Rs.4 billion to the tea subsidy.
Analysts had said that over Rs.16 billion would have been required to effectively implement both subsidies.
The tea subsidy went into full swing in March, and by September 30, the government had spent Rs.5.4 billion in tea and Rs.1.6 billion in rubber subsidies, even though many politicians had continuously said at different forums that the government has been spending over Rs.1 billion a month in tea subsidies.
Dissanayake had attributed this discrepancy to the weather disrupting supply during several months.
Some stakeholders had said that the subsidy was an attempt at winning votes in the August elections.
The subsidy was also surrounded with corruption. Funds were given to the tea factories to be distributed at the time of collecting green leaf.
Tea inspectors had given the Rs.80 subsidy to factories which had paid bribes, most of whom processed excessive volumes of low-quality tea, while giving a lower subsidy to quality tea manufacturers. Dissanayake said that the solution is for the government to go ahead with the proposed market intervention, buying tea at higher prices at the Colombo auction with Rs.1 billion and selling them for profits later. Both Rajadurei and former TEA Chairman Niraj de Mel said that this would lead to an equitable trickling down of benefits in the supply chain. A similar action saw positive results during the Iraqi crisis in 2008, but both industry experts and Dissanayake are unsure whether the intervention would result in market prices increasing or remaining low. Customers have a greater power in commodity markets.
Meanwhile, a new form of incentives may be forthcoming, as Rajadurei said that the Prime Minister is positively inclined towards extending working capital to the plantation companies and smallholder factories.