---



Various companies and institutions organize exhibitions and expositions at a professional level as a mechanism to create public awareness and also as a marketing strategy to promote their goods and services amongst a wider segment of customers.


In this background, almost every month, national and international level exhibitions are conducted in Sri Lanka as commercial enterprises are eager to achieve the dual objective of pushing their businesses to greater heights.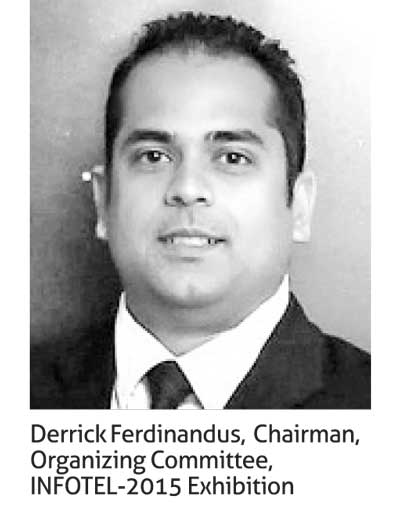 Derrick Ferdinandus currently serve as the Chairman of INFOTEL 2015 Main organizing committee, he has been a member of the annual INFOTEL Information and Technology Exhibition organizing committee for five consecutive years, which he has won wide applause over the years from industry stakeholders.
In this interview, he shares his in-depth knowledge, professionalism and expertise on conducting exhibitions and outlines how and why the public should gain experience during the international exhibitions.

How would you describe your involvement with professional exhibitions and the experience you have mustered in the long term?
Since my younger days, I have shown a keen interest towards seeing the latest innovations. The best place was exhibitions. It was my passion. If I came to know of an exhibition held either in Colombo or in a major town, I made a beeline to the venue to view it.
After I ventured into the Information and Communication Technology (ICT) Industry sphere and made it my career, I embarked on an in-depth analysis of this field in relation to the exhibition industry.
Let me recall that it was after I gained recognition as a professional in the ICT industry I wanted to give something back to the community, eventually I was appointed as the President (Hardware Chapter) of the Federation of Information Technology Industry Sri Lanka (FITIS). As a result of this move, I shoulder the responsibility of organizing the INFOTEL the National Information and Communication Technology Exhibition annually as the Chairman of the organizing committee of this prestigious event.

What is the general outlook and objectives of exhibitions conducted in Sri Lanka?
These exhibitions are diverse in their outlook. Some events target spot sales, where their objective is to market their products or services directly to customers at the venue itself. As an example, such events are held especially during the Christmas and Sinhala New Year season. In addition, various professional organizations, commercial and industrial boards organize exhibitions at a professional level under different spheres. There are also medical exhibitions, agricultural exhibitions, ICT exhibitions, engineering exhibitions, educational exhibitions, handicraft exhibitions and construction exhibitions which can also be taken as examples of the diversity involved.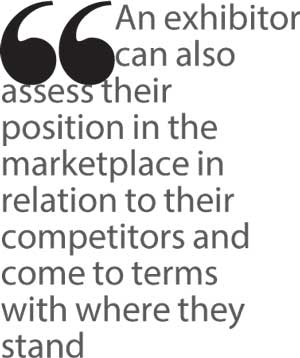 The objective of events of this nature is not to make sales directly to customers, but to create awareness and educate the public. Apart from displaying products at these exhibitions, there are also parallel workshops, seminars, Career guidance programs, job banks and product launches in the related fields, practical sessions, future initiatives, unveiling new experiments and giving an opportunity to school and university students to display their inherent talents. Among others, there are also events by organizations to forge a closer relationship and understanding with their customers.

What are the advantages that the public derive by visiting these exhibitions?
In the relevant sphere, they can develop their knowledge and arm themselves with fresh thinking on modern innovations and technology, new products and future initiatives.
They can also opt for better prospects by taking part in career guidance programs and job banks to secure their future through productive employment.
Companies with national and international recognition, together with other recognized institutions participate in career guidance exhibitions. The public gets an opportunity to build a strong relationship with these participating organizations. Customers can also directly discuss with these companies and resolve any problems regarding their products and services. School and university students can unveil their innovations and display them to the public. Moreover, customers can also purchase products from well-established, leading companies at discounted prices.

What are the advantages and benefits that an exhibitor derives by participating in such an event?
The benefits are enormous. Exposure to an exhibition helps to muster new knowledge and infuse fresh thinking in keeping with current trends. In fact, they develop their horizons of knowledge.
They can also assess their position in the marketplace in relation to their competitors and come to terms with where they stand. It also offers exhibitors an opportunity to reach the apex in their chosen spheres through honor, recognition and plaudits from the public.
While educating consumers, they can also build a strong bond with them and introduce their new products and services to the market at the appropriate time. In addition, they can share their knowledge, experience and expertise with others in the industry and play a lead role in marketing their products and services.
To derive maximum benefit, they should put up a creative and innovative stall. They should have a well trained staff who can offer a clear explanation on their products to the public.

What are the guiding factors you would offer the public in viewing a national or international level exhibition?
Before walking into a stall, one should have in mind the objective of visiting it. The exhibition should be viewed in a way that will fulfill one's needs and help achieve the set objectives. They should visit each stall for a good view, raise questions and enhance their knowledge.

Can you give a description about the INFOTEL-2015 ICT Exhibition?
INFOTEL is South Asia's premier and Sri Lanka's largest ICT exposition. The 14th edition of this prestigious annual event will be held from November 20th – 22nd 2015, under the theme of "Connecting Citizens" at the BMICH, Colombo.

How can more information be accessed on the INFOTEL-2015 Exhibition?
By logging on to our website www.infotel.lk or the Facebook account Infotel ICT Expo. We welcome productive ideas and suggestions from the public to add value to this event. These views can be sent to us via email djferdi82@gmail.com