---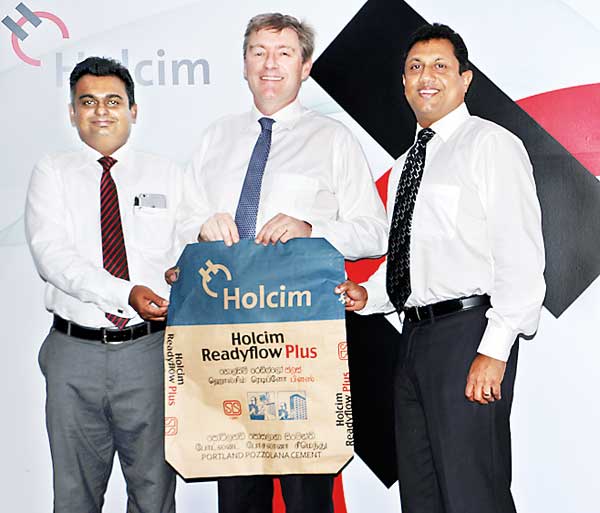 Holcim Lanka's Ready Flow Plus enters the market with a promise of high performance that combines with strength, consistency and workability.
A product manufactured in Sri Lanka with local inputs encourages a leaner but stronger concrete footprint and assures the construction industry of faster delivery times, efficient performance and stronger roots that can hold out against adverse weather conditions while ensuring efficient management of floor space.
Sri Lanka's construction industry is experiencing tremendous growth with increasing emphasis on high- rise buildings. Given the limitations on space to build, high- rise constructions are emerging as the preferred choice of many.
"In developing Ready Flow Plus, Holcim (Lanka) Ltd has gone one step further in shifting from ordinary Portland cement that requires inputs such as clinker, to blended cement which scores high on sustainability and leaves a smaller environmental foot print," said Sanka Senaviratne Manager Industrial Sales at Holcim(Lanka) Ltd.
"Better workability means less resources utilized while also ensuring that the concrete flow is optimal. Holcim Lanka has invested considerably in developing the right product mix that meets the stringent requirements of the industry. All developed countries are moving towards blended cement followed by Asia Pacific countries who have opted for blended cement as the next best choice as far as strength and efficiency is concerned, for high rise structures. Holcim's Ready Flow Plus guarantees strength, performance and workability as a blended cement which allows achieving the right mix required." Sankaadds.
Developed following over 1 1/2 years of extensive research conducted by Holcim Lanka, the process involved the company's global know-how and expertise in cement manufacturing in over 70 countries and its outstanding quality assurance procedures. The research conducted also involved inputs from customers engaging in 03 sets of trials with real time applications. The process also included extensive brainstorming exercises conducted with industry experts, academics and regulatory bodies in determining the best product mix.
With cutting edge inputs such as better workability, Holcim Lanka's Ready Flow Plus also scores high on its flexibility in working with all kinds of raw materials, such as river sand and manufactured sand.
Holcim Lanka has worked closely with construction industry academics and experts from the Universities of Moratuwa, Ruhuna and Peradeniya in developing Ready Flow Plus.
"It is environmentally sound and meets global sustainability requirements while satisfying industry requirements on all fronts," said Senaviratne in conclusion.
---
---
Add comment

Comments will be edited (grammar, spelling and slang) and authorized at the discretion of Daily Mirror online. The website also has the right not to publish selected comments.

---