---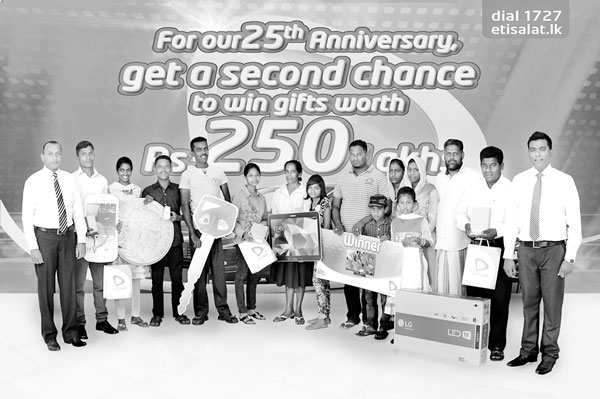 Winner of the first month: R.P.W. Jayathilaka (smartphone), M.N.K. Laggoda and M.G. Gunathilaka (Galaxy tab), S.H.T. Marikkar (LED TV), B.G.H.M. Sumanalatha (gold coin) and monthly grand prize winner H.A. Chaminda was gifted a brand-new motorbike



Etisalat Lanka, the only network in Sri Lanka to complete 25 years in the mobile telecommunications sector, has commenced with the second season of the promotional scheme launched in celebration of the network's 25 years in Sri Lanka.


Launched last year, the brand is celebrating the new season by rewarding the lucky winners of the first month. This time around the promotion is extended for a period of six months and will reward their entire customer base with prizes worth Rs.25,000,000.

This season Etisalat once again extends an array of exciting promotional offers to its valued customers through this grand anniversary prize draw, which includes 23,000 prizes up for grabs during the promotional period, including a gamut of cash prizes, Etisalat reloads, air tickets, motor bikes, smartphones, tablet PCs, gold coins, LED TVs and a luxury Honda Vezel SUV as the grand prize. Customers are given more chances to win by simply reloading or talking more on Etisalat and can further keep track of their winning chances by dialling *25 OR # 25 #. The promotion also takes into consideration long-term customers of the network and has structured the draw points according to loyalty users, frequency of reloads/top ups and the amount of network usage.

Customers who have remained with Etisalat for a longer period have a higher chance of being rewarded and enjoying many more benefits. Etisalat is also offering the most number of winning chances where for every IDD minute call that is made, the customer will be eligible to 100 winning chances and walk away with any one of the above promotional prizes. For any calls made within the Etisalat network, the customer has the opportunity to receive 10 chances to win – the more minutes that are used the chances to win increase.

Etisalat Lanka is the only network in Sri Lanka to achieve the 25-year milestone and rewarding customers for their loyalty, trust and support to the network. Etisalat hopes to showcase their utmost appreciation to customers, for the years to come.