---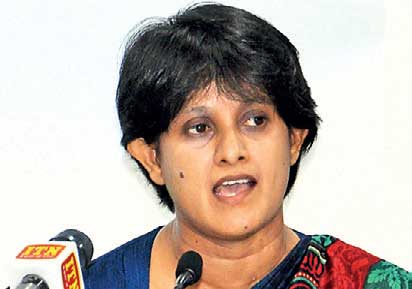 By Shabiya Ali Ahlam Sri Lanka's operational environment will continue to be bogged down with errors and mishaps, hindering international trade performances, if the public administration remains resistant towards embracing e- signatures. While the government has a vision of becoming a digital economy that would support its objective of becoming a regional hub, it is noted that the bureaucracy has failed to take the first step towards that goal with a wide section of government agencies refusing to acknowledge e- signatures, and thus accepting e-documents. Shedding light on the reality of the current context, Verité Research, an independent economic think tank, yesterday pointed out that even when a functioning electronic platform is available for use, public agencies still demanded manual documents signed by hand for their records, negating the benefits of the electronic system.
According to Verité Research Head of Economic Research Subhashini Abeysinghe, the nation's shortcomings in moving to paperless trade does not stem from a lack of activity. "Speedy resolution of any issues that prevent acceptance of e-signatures and electronic documents is one small step the government can take even tomorrow, which will result in a giant leap forward for the country in terms of trade competitiveness," said Abeysinghe. She added that not only is acceptance of electronic signatures a prerequisite for improving Sri Lanka's trade dynamics,
it is also a crucial element of all key economic policy objectives set forth by the government. The country's attempts in this regard date back to over 20 years, when Sri Lanka established a working group called the National EDI Committee in 1995 with representation from 20 public and private organisations to serve as a forum on adopting Electronic Data Interchange (EDI). The most recent was the Ministry of Finance together with Sri Lanka Customs launching a 'Single Window Platform', which is meant to facilitate electronic communications between traders and respective government agencies. Noting that the setup currently only covered a few government institutions, Abeysinghe said greatest failing is that it has failed to replace the need for a "duplicate process" of manual documentation in multiple copies. The documents will only be accepted with signatures on hard copies, not in electronic form. The law enabling acceptance of electronic signatures was passed in 2006 with the enactment of the 'Electronic Transactions Act, No. 19 of 2006' (ETA 2006). Abeysinghe asserted that the lack of initiative and inability on the government's part to move the country towards acceptance of electronic documents and electronic signatures, despite Sri Lanka having an enabling legislation and other core requirements in place for almost a decade, is letting down the nation's cross border traders at many different levels. "Not only is this costing the country millions of rupees every year, it's also doing irreparable damage to Sri Lanka's trade dynamics so that the country may never fully recover from."It is mandatory for the government and the private sector to make adoption of electronic platforms a national priority and work towards successful implementation of electronic documents and signatures in the trade process to ensure that Sri Lankan traders reap the benefits of moving the Sri Lankan economy into the 21st century," stated the senior economist.