---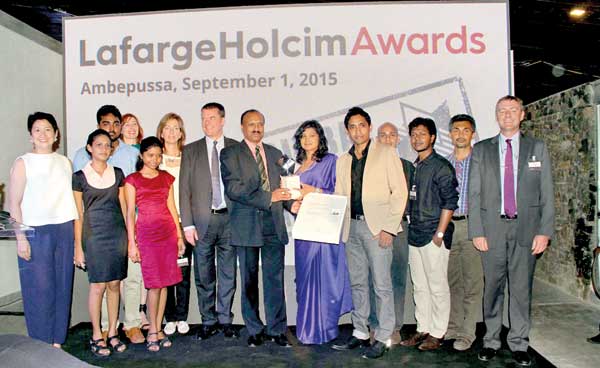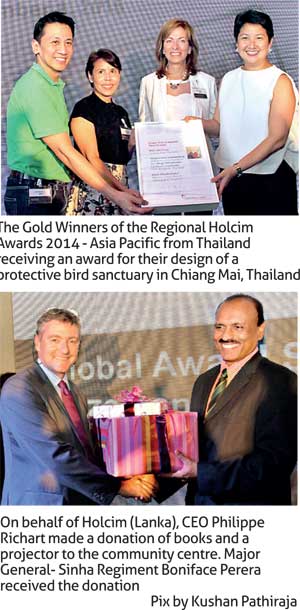 A construction training and community engagement project in rural Sri Lanka won the Silver prize in the most significant international competition for sustainable design and construction.

Architects Milinda Pathiraja and Ganga Ratnayake from Robust Architecture Workshop in Colombo were presented with the Award on the site of the winning project in Ambepussa.
At the ceremony on the military base of the Sri Lankan Army, the Colonel of the Sinha Regiment, Major General Boniface Perera, and Global Awards jury members Maria Atkinson (Australia) and Meisa Batayneh (Jordan) praised the project for building human capacity as well as a physical structure.
The recently completed library makes an impressive architectural statement. The facility is open to both army personnel and the neighboring communities and thereby supports a broad cross-section of the community in the process of establishing strong foundations for their future development. The building complex 45 km northwest of Colombo was constructed by soldiers who were coached in building techniques using rammed-earth walls and recycled materials that harnessed their expertise in logistics and modular construction.
Member of the Global jury and the Board of the LafargeHolcim Foundation, Maria Atkinson, commended the project for creating a skilled and motivated workforce through an educational program and the thoughtful deployment of specific construction techniques.
"There is significant value in the basic message of the scheme – and the construction of a library that builds both the physical and social fabric of a community", she said. Atkinson praised the initiative of the Sinha Regiment for taking an unconventional approach by offering its soldiers practical education in construction and at the same time a place to study and develop additional skills. The Awards ceremony was the first in the twelve-year history of the competition to be held on the site of the winning project and took place in the main reading hall of the library.