---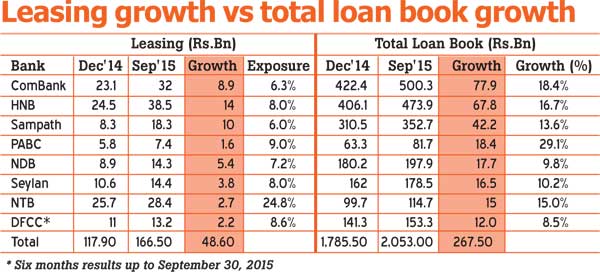 Top three commercial banks account for over half




In an startling revelation, the top eight private sector licensed commercial banks (LCBs) have given out a staggering Rs.48.6 billion worth of leases during the first nine months of 2015, accounting for close to 20 percent of the total growth in their loan books during the period, a Mirror Business analysis showed.
The top three private sector commercial banks based on assets— Commercial Bank PLC(ComBank), Hatton National Bank PLC (HNB) and Sampath Bank PLC—accounted for 68 percent or Rs.32.9 billion of this growth.

Most leases were given for vehicle financing as once the gold bubble burst, vehicles were the only remaining collateral-based lending available for banks and finance companies.

Leasing facilities for industrial equipments for manufacturing and value addition purposes such as machinery and industrial vehicles must have accounted for a minute share of this growth as most of the mega infrastructure projects were stalled from the beginning of this year while the private sector took a wait-and-see approach for investments.

Hence, even some of the excess liquidity available for banks through foreign borrowings was appeared to have channeled into consumer vehicle financing as some of the larger banks offered leases at rates as low as 9 to 10 percent.

This was evident from the monthly vehicle registration numbers which was hitting all time highs month after month for most part of the year.

However, the sustainability of the growth in the leasing portfolio is uncertain as the increased import levies are expected on vehicle imports from the forthcoming budget.

Also, the 70 percent Loan-to-Value ratio on motor vehicle financing proposed by the Central Bank will come into effect from December 1, further dampening the prospects for vehicle imports.

The exposures to leasing by the banks in our analysis however remains less than 10 percent except in the case of Nations Trust Bank PLC (NTB), where leasing accounts for a quarter of its loan book.

NTB saw its net interest margin coming under pressure during the period under consideration due to its corporate and leasing portfolios feeling the pinch of declining yields under heavy competition.

However, the access to cheaper credit could still fuel the vehicle imports despite the high import costs.

Meanwhile in absolute terms, ComBank accounted for the largest share of Rs.77.9 billion for the private sector credit growth during the first nine months followed by HNB with Rs.67.8 billion, Sampath Bank with Rs.42.2 billion and the new entrant in to the league of top five players, Pan Asia Banking Corporation PLC with Rs.18.4 billion. Further Pan Asia Bank was able to grow its loan book by 29.1 percent during the nine months, the highest by any bank in the list.

The eight banks in the sample account for over 70 percent of the total private credit in the economy during the first nine months.