---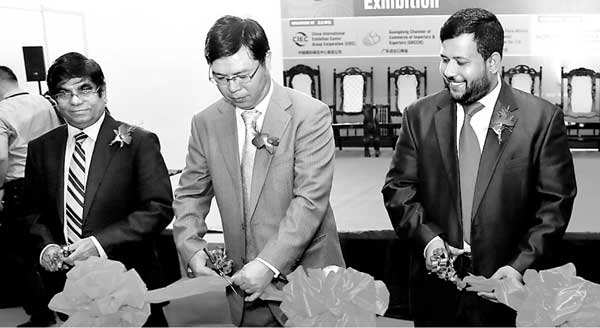 Industry and Commerce Minister Rishad Bathiudeen joining Chinese Ambassador to Sri Lanka Yi Xianliang and National Chamber of Commerce President Thilak Godamanna to inaugurate the first China Product Expo in Colombo



China has contributed almost US $ 10 billion to Sri Lanka so far while Sri Lanka's strategic location is not such a unique advantage to the country said the mainland, while Sri Lanka on its part, called Chinese industries to set up here and gain faster access to South and West Asia.


"Sri Lanka being located in the middle of Indian Ocean does not mean there is (special) investment advantage. There are other coastal countries in this region at the same time having same advantages as Sri Lanka. Still China attaches a little more importance on China-Sri Lanka cooperation," stressed Chinese Ambassador to Sri Lanka Yi Xianliang yesterday.
Xianliang was addressing the inauguration event of the first China Product Expo in Colombo yesterday. The business buyer aimed special exhibition at SLECC is organised by the China International Exhibition Centre Group (CIEC), Guangdong Chamber of Commerce of Importers and Exporters (GCCIE), Worldex Fiera Milano and supported by the National Chamber of Commerce of Sri Lanka and Ceylon National Chamber of Industries (CNCI). Joining the session were Industry and Commerce Ministry Secretary T.M.K.B. Thennakoon and Commerce Department Director General Sonali Wijeratne.
"Both countries are indeed friends. Secondly trade and economic cooperation is fundamental for economic relations. Last year China-Lanka trade amounted US $ 3.2 billion. This is a massive bilateral trade increase from six years ago. Also Chinese businesses have invested US $ 2 billion in Sri Lanka. The Chinese government, through the Exim Bank and other banks, contributed more than US $ 6 billion to the development of this country.
When taken all these as well as other Chinese financial contributions to Sri Lanka over the last 50 years, it totals to about US $ 10 billion. This means Chinese financial contributions to Sri Lanka is quite important with positive impacts on the development of this country. I visited Sri Lankan harbours and airports and there is rapid development in the country's infrastructure.
I do believe these developments and achievements due to this contribution and business sectors of both sides too did a lot. On this basis, I must express my sincere appreciation for this exhibition, which is not just a fair but also a foreign direct investment (FDI) opening for Sri Lanka. I do believe business is for people, for development and for the future of both countries. We also fully support bilateral exchange, not unilateral exchange," he added.
China became the topmost global investor in Sri Lanka by Y2013 and according to the Board of Investment (BoI) data, in 2013 China had 24 investment projects valued at US $ 239 million as cumulative '
realized' investment.