---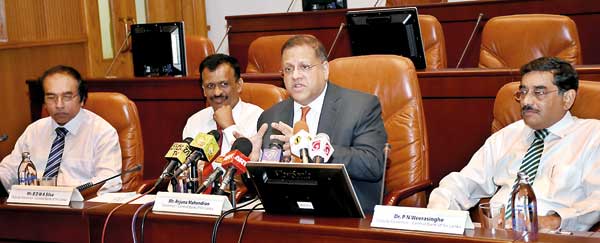 Says will direct a state bank to take over Entrust Securities if restructuring plan not submitted



By Chandeepa Wettasinghe
Entrust Securities, the largest primary dealer in government securities after banks, is likely to be installed with a management team appointed by the Central Bank (CBSL), due to allegations of large-scale fraud and mismanagement.

"They were given a period of time to make their books right and come up with a comprehensive restructuring plan. The deadline for that is today (January 4) at 6:00 p.m.," CBSL Governor Arjuna Mahendran said at a press conference yesterday.

CBSL Deputy Governor P. Samarasiri said that while Entrust had engaged in brief discussions with the CBSL during the period, they had never communicated any decisions in formal writing.

Mahendran said that the CBSL had noticed and notified Entrust of liquidity issues and other shortcomings since 2013 but a recent routine check had flagged major problems, leading to the CBSL forwarding the ultimatum on November 11, 2015.

Last month there were media reports that Rs.3 billion of Employees' Provident Fund money of the Ceylon Electricity Board (CEB) invested in treasury bills by a primary dealer had gone missing.

"Other clients have also come forward with complaints. This is the first time that a primary dealer has had a problem. We are keen to see that public confidence is maintained on government securities. That is why the Central Bank will take over," Mahendran said.

He stated that Entrust had sold repurchase agreements for government securities which had provided interest rates 2-3 percent above the government security rates, in order to attract clients.

Mahendran speculated that the company directors may have invested money withdrawn from government securities into other assets by recording them as loans taken from the company, as primary dealers are not allowed to own assets other than government securities.

"We will recover the assets and liquidate what is required to pay the clients and investigate directors' ownership in assets and recover them all," he said.
The shortfall of funds may run into "several billions", he noted.

However, he added that for immediate liquidity issues, the state bank which is taking over will infuse capital, which will be repaid by the CBSL or the Treasury.

Mahewwndran went on to say that if the clients were involved in any of the fraudulent activities, they too will face prosecution.

There had been several complaints to the police by clients and the Criminal Investigations Department was also investigating, Mahendran said.

CBSL Deputy Governor Dr. Nandalal Weerasinghe said that most clients are ignorant of any problems and don't do their due diligence.

"These are government securities, which are the most secure. After looking through one or two monthly or biannual interest statements, they don't check them anymore, just like how we don't check each of our monthly bank statements," he said.

Samarasiri assured that day-to-day business operations of Entrust will not be disrupted due to the management change.

"Business will continue as usual tomorrow. Entrust's share prices may even go up, because the people will have more confidence in a Central Bank management," he added.