---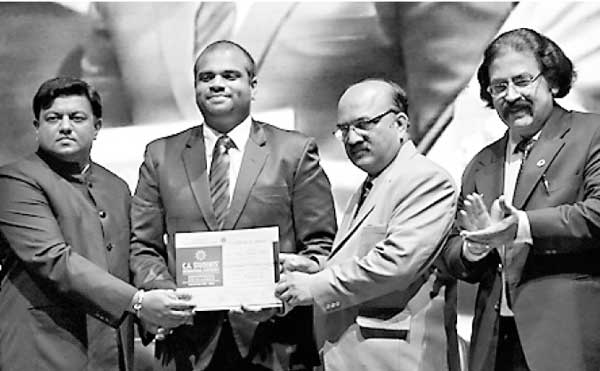 Arosha De Silva, a student of the Institute of Chartered Accountants of Sri Lanka (CA Sri Lanka), recently won the best speaker award and was adjudged the first runner-up among 24 other speakers at the International CA Students Conference in Indore, India.


Arosha, who represented CA Sri Lanka at the conference organised by the Institute of Chartered Accountants of India (ICAI) in September 2015, participated in one of the technical sessions titled 'Tools of International Finance' during the conference where he made a presentation on the 'Role of CA profession in developing sound capital markets'. Subsequent to his presentation, Arosha won the best speaker award of the session and was also adjudged the first runner-up at the conference among a total of 24 other speakers.
The two-day conference held under the theme 'Empowering Excellence' at the DAVV University Auditorium, Bhanwarkuwa, Indore, covered contemporary issues emerging in the accounting domain and provided excellent opportunity for the students of the Chartered Accountancy programme from India, Sri Lanka, Nepal and Bangladesh to meet and share knowledge and experiences. Arosha has completed the final level case study conducted by CA Sri Lanka and is currently undergoing practical training to complete the training requirement prior to applying for his Associate Membership at CA Sri Lanka. He currently serves as an Assistant Manager at Ernst & Young and attended S. Thomas' College, Mount Lavinia.
A total of 13 students from CA Sri Lanka participated at this year's ICAI student conference held in India.