---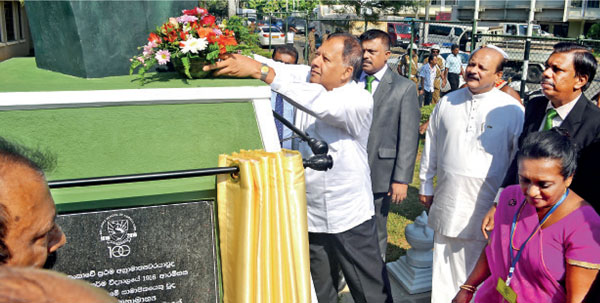 Special Assignments Minister Sarath Amunugama attending the ceremony to unveil the statue of former Prime Minister D.S. Senanayake at the Gannoruwa junction

By Udara Layanarathna
The importance of bringing rural agriculture to international level was stressed by Special Assignments Minister Sarath Amunugama at the anniversary celebrations of the Agricultural Research Centre in Gannoruwa, Peradeniya,
held recently.
At the same time, a statue of former Prime Minister D.S. Senanayake, who was an old boy of this college, was unveiled by Minister Amunugama, at the Gannoruwa junction.
Central Province Chief Minister Sarath Ekanayake and Secretary to the President P.B. Abeykoon also graced the occasion.
Minister Amunugama said, in order to uplift the standards of rural agriculture, implementing new policies, following new trends and refashioning agro-economic patterns were essential.
"We cannot improve our agriculture just following the traditional methods. Therefore, research, subject knowledge and practical teaching methods have
to change."
The minister noted that two decades ago Sri Lanka had to face the critical issue of shortage of rice. The government had to import the balance of the required rice for local consumption, as the domestic production was not sufficient. Thus, even the politics at that time was rice-centred as diplomatic missions were set up with countries such as Burma, China, India and Thailand for the above mentioned purpose.
On the contrary, at present, the rice production has exceeded consumption, making Sri Lanka self-sufficient in rice.
Nevertheless, the government intends to increase the 70 bushels that are obtained from the dry zone up to 120, with the aid of modern technology in the processes of preparing the land, transplanting, bundling, harvesting, etc.
The share of agriculture in the gross domestic product has declined rapidly over the past 20 years while the sectors of industry and services have boosted their contribution.

Several reasons behind this problem have been identified - the different perceptions carried by political parties towards agriculture, low production, which contradicts the high production cost, for instance, with the amount Sri Lanka spends for one bushel, Thailand or Burma obtains two bushels and the rapidly decreasing work force, as the youth tends to leave agriculture seeking other
employment opportunities.

Minister Amunugama pointed out that the solution for these problems was to raise the production with modern technology, turning paddy cultivation into a long-term investment and enhancing the benefits accrued from agriculture.
In this process the duties of the Agriculture Ministry is twofold. One is conducting researches and the other is extension of work and the expansion of the area cropped. In order to fulfil the above, the minister stressed that all our research centres must
be modernized.

Further, the minister pointed out that if the production of marketable rice varieties such as Basmati increases, Sri Lanka can gain a share of the world rice market.
Even radical economist Joseph Stiglitz, attending the Colombo economic conference, questioned why Sri Lanka hesitates to enter the evolving markets in Asia.

---
Add comment

Comments will be edited (grammar, spelling and slang) and authorized at the discretion of Daily Mirror online. The website also has the right not to publish selected comments.

---