---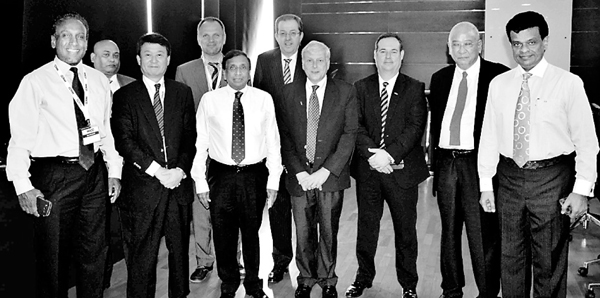 From lef:t Rohantha Peiris – Managing Director, Aitken Spence Cargo, Jerome Brohier – Vice President, Aitken Spence Cargo, Waco board members Shinji Kitamura , Kristjan Palsson , Rajan Britto – Deputy Chairman and Managing Director, Aitken Spence PLC,. Thomas Reuter – Waco board member, Stephen Knight - Chairman,Waco, Richard Charles - Executive Director,Waco,. Arthur A. Da Silva - Vice Chairman, Waco & Dr. Parakrama Dissanayake – Chairman & CEO Aitken Spence Maritime & Logistics and Director of Aitken Spence PLC.



Aitken Spence Cargo hosted the 83rdGeneral meeting of WACO, the world's foremost independent global freight management & logistics networkrecently, for the first time in Sri Lanka.


With 64 countries in attendance, the event gives the network global partners the opportunity to meet during the bilateral meetings and discuss future plans and strategies as well as review past initiatives. Aitken Spence Cargo was the host member and is the WACO representative in Sri Lanka since 2002.
An exclusive network consisting of independent freight management companies, Waco was founded in 1973. Its current membership is from 104 countries in over 450 locations employing over 30,000 freight professionals handling over 2 million shipments per year with an annual turnover of US$ 4 billion. The company is an association owned by its members with its corporate head office in Zurich and operational management in London.
Aitken Spence Maritime & Logistics Chairman & CEO and Director of Aitken Spence PLC Dr.Parakrama Dissanayake spoke on "Global Container Shipping - Challenges / Trends and Implications on Indian Sub-Continent Transhipment Hubs", as the keynote speaker.
Members of the Board of WACO led by its Chairman Stephen Knight, at a meeting with Aitken Spence representatives led by its Deputy Chairman and Managing Director J M S Brito discussed opportunities arising from the new government'sagenda for infrastructure development and initiatives in propelling Sri Lanka as a maritime hub.
Aitken Spence is Sri Lanka's largest integrated logistics services provider. Aitken Spence Cargo is considered as the company that pioneered freight forwarding in the country, now providing total freight and logistics solutions with offices in 15 locations. It has offices in Bangladesh, Maldives and Pakistan. Aitken Spence Cargo represents Qatar Airways Cargo in Sri Lanka, TNT Express in Sri Lanka & Maldives, while also representing SriLankan Airlines Cargo in theMaldives and Bangladesh.