---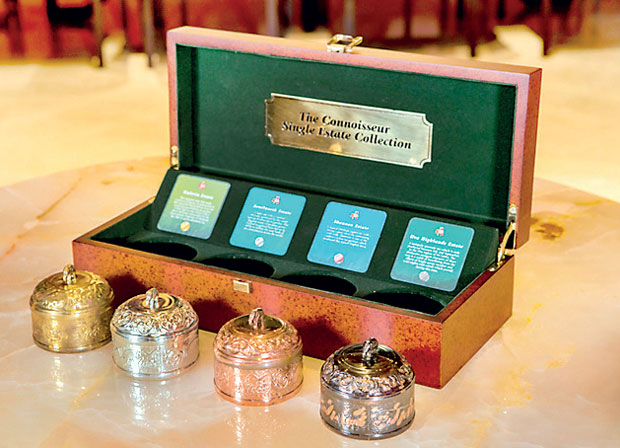 Steeped in the art of tea, Zesta, Watawala Tea Ceylon's flagship, award winning brand is creating delicious experiences for guests of the high end hospitality chain, Shangri La – across all their properties, worldwide.
The 'Zesta Connoisseur Collection' is a range of 28 carefully curated blends that epitomise the luxury and elegance that is Shangri-La.
Part of the Sunshine Holdings conglomerate and a household name for top end, premium quality tea, the local Zesta is now a world-class brand, particularly with its partnership with the iconic hotel property. Zesta's tea masters, together with the Shangri-La team, designed and developed the collection of teas in a range of tastes and flavours.
"That same evergreen shrub grown near sea level as compared to grown at 6,000 feet can have all these different flavour profiles," explains Sidath Perera, one of Zesta's Tea masters. "And then by changing elements of the manufacturing process you get even more flavour profiles."
The collection of Zesta Connoisseur has several teas and herbal infusions — English Breakfast (an exceptional, bright, black tea) Moroccan Mint (a Ceylon 'gun powder' Green Tea with Peppermint leaves) and Lychee with Rose & Almond (a Ceylon black tea flavoured with Lychee, Rose & Almond). Each is fascinatingly distinct. The range also features herbal infusions like Chamomile and Rosehip and Hibiscus as well as flavoured teas such as Peach and Strawberry which are iced tea favourites. A special feature is a range of four single estate Ceylon teas from Kenilworth, Waltrim, Shannon and Uva Highlands which embody the special taste and flavour characters that made Ceylon tea special.
Sunshine Holding's Group Managing Director, Vish Govindasamy in detailing the process that went into Zesta being handpicked by Shangri La, said, "The Zesta Connoisseur collection was developed together with Shangri La, based on guest requirements. A lot of insight into unique and exclusive taste preferences, veering towards artisan, got us experimenting with new blends, especially for the range".
"Needless to say, our single estate teas, picked from the highest altitudes of the fabled elevations of the Nuwara Eliya region to the misty valleys of Uva and Dimbula are unparalleled in taste and lends to a perfect brew," noted Govindasamy.
"From artisan to dessert tea, all are part of the collection" he enthused, adding "So many choices, so many flavours and yet when it comes to my first cup of tea each morning, it's always the same: black, stern and bracing.