---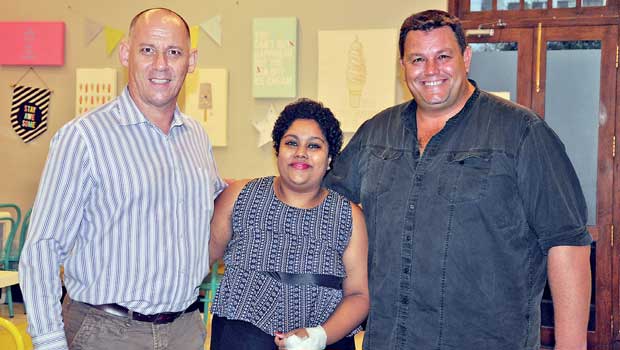 Author Dom Mee founder of the event, with Grace Wickremasinghe the youngest poet to be shortlisted for the prestigious Gratiaen prize and Micheal McEvoyof Mercmarine Training
The young talent of Sri Lanka have for the first time a platform to promote their work to an international audience and its shaping up to the coolest event in Sri Lanka.
The diverse event encompassing all art mediums with a focus on up and coming talent. Authors, poets, artists, musicians, fashion designers and performing artists will be performing live at the event which runs over two days at Galle Fort.
Author Dom Mee founded the event supported Grace Wickremasinghe the youngest poet ever to be shortlisted for the prestigious Gratiaen prize for her second collection 'Closure'. "It started as an event to help young self-published writers but it has grown into a major art fest it's incredibly exciting" Dom recounts.
Workshops will be held throughout the event in drawing, graphic design, poetry and acclaimed writer Prof. Neluka Silva will be sharing her knowledge on writing short stories. Grace and American poet Sophia Deady will hold a special workshop Performance Poetry.
Foodies will be delighted that 'Topless Baker' Don kevin Ketagoda will be joined by Jayai Senanayake and Dush Ratnayake who will be speaking about their passion at the festival. If you over indulge in the food, rising stars in fitness and modelling Baghya Denishious and Meliza Leitch will be passing on their tips for the gym.
Sri Lanakan artist Yanti Rajap Lebbe after three decades away celebrates her return home to Galle with an exhibition of her paintings of Galle Fort.
Many young writers and poets will be using the Cockrell Fringe to launch their work Sachinee Seneviratne her collection 'Losing Sleep', Grace Wickremasinghe 'Closure', Chamindra Warusawitharane 'Lost Voyages', Biman Kasun Wimalaratne 'Shakespeare on Cocaine', Imanthi Perera 'Ink Theory', Nadeesha Paulis 'Water in my Grave' a selection of Sri Lankan horror stories.
Despite the events first year some big names are coming along for book signing and to help young writers. Chris Mcivor, OBE 'The World is Elsewhere', Dom Mee 'Kiting The Hurricane' and Amazon Best Seller Mark Time, 'Going Commando', 'Going All The Way', 'Going Around The Bend'.
The final night event will be an open night for performers coming from all over Sri Lanka including Shuhaib Ali who is fast becoming Sri Lanka's favourite comedian. Beatboxer Frizzybeat, Shehan x, Rapper Arinze, Emmanuel Eze along with a whole host of performers the night will finish with sounds from top DJ Sajeewa to finish in style.
The event is sponsored by Kew Villas in partnership with Mercmarne Training.
The event starts 9am till late 13-14 January at the Mercmarine Training centre opposite Hall De Galle at the old gate entrance of Galle Fort.