---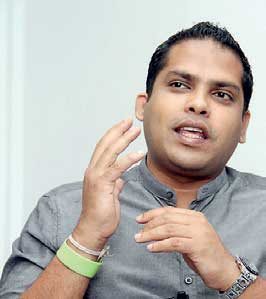 By Yohan Perera
The World Economic Forum (WEF) has expressed its interest in exploring the possibility of holding an economic summit in Sri Lanka in 2018, Digital Technology Development Minister Harin Fernando said yesterday.
Fernando, who was a member of the Sri Lankan delegation that participated in the WEF in Davos recently, said WEF Executive Chairman Klaus Schwab would visit Sri Lanka shortly to look at the possibility of holding a summit in Sri Lanka in 2018.
"He will visit Sri Lanka to participate in the 'Digital Island' digital summit next month and also will conduct a study on Sri Lanka on its prospects as a host to an international summit," the minister said.
Recalling his visit to Davos recently together with Prime Minister Ranil Wickremesinghe, the minister said the interests of the WEF and global leaders, including investors, in Sri Lanka have grown, given Asia's emergence as the centre of economic development in the near future.
He said many world leaders and businessmen have shown a keen interest in Sri Lanka.
Asked how it could be at a time when Sri Lanka's credit ratings and other economic indicators have shown a downward trend, he said such ratings are being pushed up by the present regime.
"We are confident that the ratings could be improved before long," he said.