---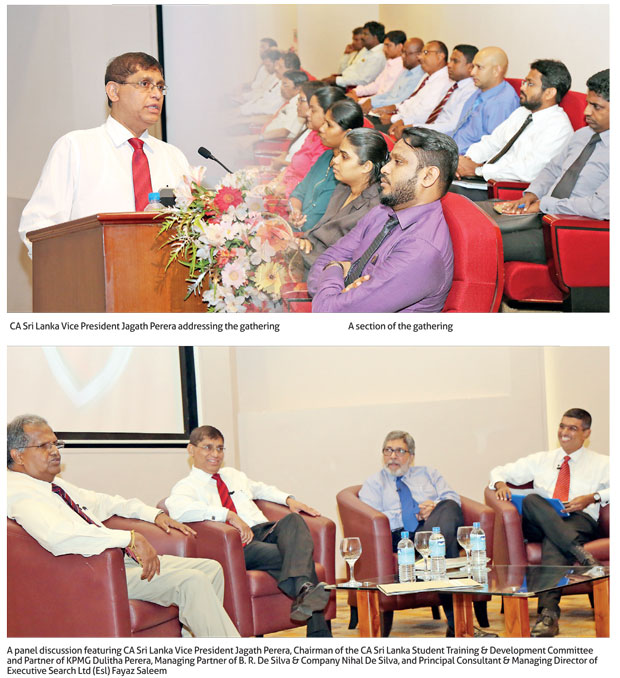 The important role played by supervising members in nurturing chartered accountants to become globally sought after professionals was highlighted recently at a Training Partners workshop organized by the Institute of Chartered Accountants of Sri Lanka (CA Sri Lanka).
The technical workshop which was organised for supervising members of practicing firms and commercial sector organizations focused on the increasingly challenging role and the continuing expectations of training partners and practicing member in the current context.
Chairman of the CA Sri Lanka Student Training & Development Committee and Partner of KPMG Dulitha Perera, highlighted the significant role supervising members who are members of the institute have played over the years in helping develop the professional competence of trainees, while also imparting the important technical competence, professional skills as well as professional values in helping the trainees become holistic professionals.
"The underlying objective of a supervising member is to enable aspiring chartered accountants to demonstrate that they have gained the technical competence, professional skills and professional values, ethics, and attitudes necessary to perform the role of a professional accountant," he said.
The CA Sri Lanka Practical Training component is broken into three parts over a period of three years, consisting of; executive level, business level and corporate level where technical competence, professional skills and ethics modules are imparted on the trainees and helping them enhance their professional value and expertise when they progress towards becoming qualified professionals at the end of their training period.
Nihal De Silva, Managing Partner of B. R. De Silva & Company said that the man values of a professional accountant is broken into five areas and covers; diligent / quality, propriety, honesty / iIntegrity, faithfulness / following rules and confidentiality.
He also recalled the importance of teamwork, discipline, leadership as well as mutual respect / friendliness / tolerance which are important areas for any accountant including chartered accountants. "Our duty by the trainees is to provide an opportunity to the trainees to develop the necessary skills, while guiding and supervising their training to enhance their theoretical knowledge," he added. Guest speaker, Fayaz Saleem, who is the Principal Consultant & Managing Director of Executive Search Ltd (Esl) said that even though technical skills which is also known as hard skills is important for a professional, more and more employers are now seek for employees with particular soft skills.
Elaborating further on soft skills, he said that the key soft skills that are required of any professional are; communication /interpersonal relationships, self-motivation, responsibility, teamwork, problem solving ability, decisiveness, the ability to work under pressure and be able to manage time, flexibility, work ethics and the ability to both negotiate and resolve conflict situations.
Highlighting the important role supervisors play in helping trainees progress to become chartered accountants, Saleem said that the supervisor or manager's role as a leader should always be less about what he or she does, and more about what his or her staff do.