---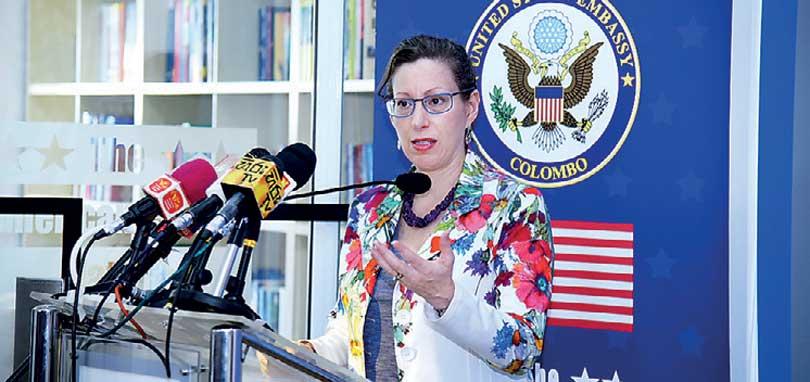 Alaina B. Teplitz
Pic by Samantha Perera
By Lahiru Pothmulla
The United States is working with the Sri Lankan government and the business community to remove barriers to investment, U.S. Ambassador in Colombo Alaina B. Teplitz said.
She said they are looking forward to seeing the business environment improving and the country's legislation and rules getting modenized.

"Publishing guidelines for areas like public-private partnerships and all the new frameworks can really help attract investors. Removing risks from the environment to ensure people get along well is also key in attracting investors," she said.

Speaking about future investments, Ambassador Teplitz said they have many programmes at government-to-government level.

She said they have been working to establish the Millennium Challenge Corporation (MCC), that will focus certain issued connected with transportation as well as roads and land registration in Sri Lanka.
"We are really focused on doing the things that are going to unleash the potential of the country. It's not just one thing in the economy that everybody hopes for in the future. It is going to be many things, but it is also part of making sure that all obstacles are removed from that process," she stressed.
---
US-SL trade up 40% during past 10 years
Ambassador Teplitz said the two-way trade between Sri Lanka and the U.S. has increased by 40 percent from Rs.410 billion in 2007 to Rs.571 billion in 2017.

Declaring the opening of the latest American Corner in Matara on Tuesday, the Ambassador said not many people knew the fact that the U.S. is Sri Lanka's largest export market.
"American consumers directly support tens of thousands of jobs in the agriculture, manufacturing and services industries. I hope the two-way trade, which had increased by 40 percent over the last 10 years, will continue to expand," she said.
Meanwhile, Ambassador Teplitz said Matara was the ideal location to open the latest American Centre as it was in close proximity to the University of Ruhuna.
She said the US wants to engage with all Sri Lankans across the country.

"Just as Washington DC is not all the U.S., Colombo is not all Sri Lankans," she said.

The latest American Corner was declared open by Finance and Mass Media Minister Mangala Samaraweera and Ambassador Teplitz at the Matara Chamber of Commerce and Industry in Hakmana Road.

The American Corner Matara offers courses on entrepreneurship, English skills and coding as well as information about the U.S. free-of-charge.

All programmes and courses at the American Corner are free-of-charge. It will be open from 9:00 a.m. to 5:30 p.m. Tuesday to Sunday.