---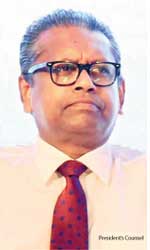 By Shabiya Ali Ahlam
Despite 'whistle-blowing' being made a mandatory requirement for listed companies by its regulator, the Securities and Exchange Commission (SEC), the benefit of the mechanism is yet to be fully reaped by the local entities, as the employees remain largely in doubt in it bringing about any implications, pointed out a legal expert.
Although the whistle-blowing mechanism is encouraged under the corporate governance criteria, a panel at Employers' Symposium 2017 recently said more work is yet to be done to ensure it is practiced over being present as a mere requirement.
According to Institute for the Development of Commercial Law and Practice (ICLP) Arbitration Board Member Franklyn Amerasinghe, the primary reason for the ineffectiveness is the lack of an ombudsman where the complaints on the conducts of colleagues could be directed to.

"They do not have confidence that the complaint they make will be taken seriously or will lead to any outcome," pointed out the former senior specialist for Employers' Organisation East Asia and International Labour Organisation.

Sharing further insights into the issue, President's Counsel Dr. Harsha Cabral stressed the mechanism will only work provided a "correct person" is found to filter the complaints put forward.

Currently, in Sri Lanka, the practice and culture is in presenting petitions and forwarding anonymous letters. The culture is observed to be highly common in state-owned enterprises.

While in most cases the petitions and letters are noted to present a number of relevant and useful facts, Cabral stressed the absence of a working and effective filtering system will result in the mechanism spurring "out of control".

"We do encourage it. Unless there is a proper person involved, it will not be workable. The idea is to encourage it for the betterment of the company," he asserted.

It was also shared that the whistle-blowing mechanism for listed companies is being relooked. The current practices in Sri Lanka have been adapted by that of the New York Stock Exchange and London Stock Exchange.