---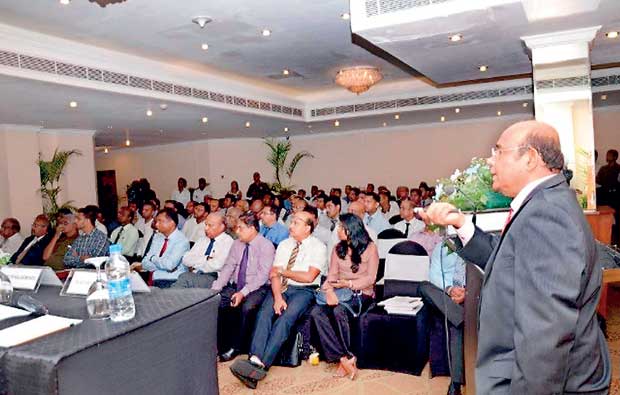 With the core objective of giving an impetus to the development of the Western Province (WP), 140 new projects have been launched in the region at an estimated cost of US $ 62,000, said Megapolis and Western Development Ministry Western Region Megapolis Planning Project Project Director/Team Leader Lakshman Jayasekara.
Jayasekera served as Director-General of the National Physical Planning Department/Urban Development Authority (UDA) and President of the Institute of Town Planners (ITPSL) at one time.
He made this announcement at the leading public seminar organised by the Ceylon Institute of Builders (CIOB) at Galadari Hotel Colombo recently, to educate and create greater awareness amongst the players in Sri Lanka's building industry on the ambitious Western Region Megapolis Development Plan.
Elaborating further, Jayasekara said that these diverse projects initiated in the Western Province encompassed the development of the transport system and roadways, energy and water resources, construction of urban dwellings and cities, re-establishment of administrative cities, setting up of industrial, tourism, science and technology cities, port and airport development and similar projects aimed at giving this key region a new identity.
Jayasekara's address followed a panel discussion, where participants sought further clarifications on the projects initiated by the Western Region Megapolis Development Plan and also offered solutions to pressing issues raised in the forum. Adviser to Ceylon Institute of Builders Professor Chitra Wedikkara, Construction Industry Development Authority (CIDA) Chairman Condrad Tissera, Sanken Construction (Pvt.) Limited Managing Director Engineer Major Ranjith Gunatilleka, Tudawe Brothers (Pvt.) Limited Chairman Engineer Rohan Tudawe and Dr. T.L. Pradeep, representing the principal sponsor, JLanka Technologies (Pvt) Ltd, a CIOB green mark holder, participated in the roundtable conference.
Expressing his views on the Western Region Megapolis Development Plan, Ceylon Institute of Builders President Dr. Rohan Karunaratne said that building companies in the industry are eager to play an active role in building activities under this initiative. These building-oriented companies are optimistic that they will be afforded the opportunity of participating in this process through an acceptable, reasonable and transparent mechanism which ensures a level playing field, he stressed.
The Western Region Megapolis Development Plan is a long-term, 15-year project. The ultimate goal of this initiative is to work concertedly towards enhancing the per capita income of the people of the Western Province, provide housing facilities to the growing population, improve lives and livelihoods and generate more viable employment opportunities.
Under the Western Region Megapolis Master Plan, it is envisaged to establish industrial cities in Horana and Mirigama, create a science and technology city in Malabe, set up a plantation city in Avissawella, modernize the public bus transport system, build more expressways, initiate an electric train service and launch transport services using the internal network of canals and waterways.
To elaborate more on the plan, the second seminar is scheduled to take place on May 19, 2016, at which the subject of 'transport, SME sector, IT Science City and incubators' will be discussed.