---
Watawala Plantations PLC group, which owns and runs tea, rubber and palm oil estates, reported earnings of 89 cents a share or Rs.211.8 million in after-tax profits for its fourth and final quarter ended in March 31, 2017, recording an increase of 168 percent year-on-year (YoY), the interim results released to the Colombo bourse showed.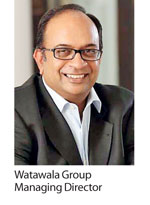 The Watawala share ended 50 cents higher at Rs.34.10 at yesterday's close.
The performance was possible due to the group's tea segment returning to the green territory with profit of Rs.81.3 million amid better prices and increased production during the second half of the financial year.
During the corresponding quarter of the previous year, this segment incurred a loss of Rs.101.2 million due to mostly hostile supply and demand conditions that prevailed.
Watawala recently shifted its tea strategy towards more quality over quantity, which appears to have started to reap benefits.
Producing high value tea over higher volume appears to be the ideal strategy that must be adopted by the industry given its challenges, where Sri Lanka should produce the world's best tea which can be sold at the highest price, Sri Lanka's Tea Board Chairman, Rohan Pethiyagoda told earlier this month.
According to the latest data, Sri Lanka's tea exports during the first four months were down by 8.1 million kilos to 88.5 million kilos over the same period in 2016, but the earnings were at Rs.69.2 billion, about Rs.10.8 billion higher from the same period in 2016 due to higher prices.
Meanwhile, the group's palm oil segment, the largest segment in terms of revenue and profits, saw its net profit coming down to Rs.46.5 million from Rs.124 million YoY as the government reduced the duty on palm oil by Rs.40.00 in 4Q17, which had an adverse impact on the selling price.
However, for the 12 months ended in March 31, 2017, this segment made a net profit of little over a billion rupees compared to Rs.682.1 million net profit recorded for the previous year.
"The increased profitability is primarily attributable to the increased crop and higher net sale average achieved during the year", said Watawala Group Managing Director V. Govindasamy.
For the full year, the group reported Rs.5.18 a share or Rs.1.23 billion after-tax profit, which is an increase of 137 percent YoY.
Watawala's annual profit is also the highest profit earned by any regional plantation company since privatization.
For the full year, the tea segment returned to a net profit of Rs.6.3 million from a loss of Rs.314.2 million in 2016.
As of March 31, 2017, Estate Management Services (Pvt) Ltd held 75.65 percent in the company followed by8.73 percent stake held by the high net worth investor, Dr. T. Senthilverl.