---
Vinseth Engineering (Pvt) Ltd celebrated ten years in operation under the theme of "ADMO Ten Years of Excellence" with an all-night Pirith ceremony at their factory premises at Katuwana Industrial Complex in Homagama. Members of the staff who served the company loyally, since the inception were felicitated in a gala dinner held at the "Cavalry Officers Mess" in Rock House Army Camp Colombo 15. Retired Army Commander General Daya Rathnayaka was the Chief Guest at the function.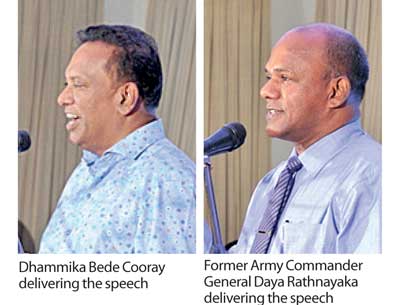 Founder Chairman / CEO Dhammika Bede Cooray commenced Vinseth Engineering operation in supplying quality Zn - Al roofing products under the brand name of ADMO in 2006. With the philosophy of maximizing customer satisfaction ADMO made a significant impact in the construction industry. This was well proven when Vinseth Engineering was elevated to third position in imports of coated sheeting, when statistics were released for year 2015. Nihal Weerawarna and Sarath Vithanage the other two founder Directors played a major role in this achievement.

Said Dhammika Cooray "This is a tremendous mile stone in our company, over the ten years we have become a dominant organization in the construction industry, which we never thought at the inception. Our employee driven teamwork model owes these successes. Though the construction industry advanced in various ways, our mission remained unchanged. That is to supply a superior roofing product", He further emphasized "The last decade has been crucial in building a future beyond the next decade. This success belongs to the dedicated staff of the company and our loyal clientele."
Over the last ten years Vinseth Engineering was recognized in many ways, achieving ISO 9001:2000 standard and in the construction industry, reached ICTAD grading of C5 and EM-2, Vinseth's contribution towards greener environment was recognized with the Gold Award for Green Mark Certification by CIOB. Another accolade was the Maas Lanka Trade Excellence award.

With the expected construction boom Vinseth felt the need for an expansion. With this in mind a three acre land was acquired in the Horana BOI Zone, with an ambitious plan for introducing new Zn - Al roofing products suitable for the next decade. The organization's network consists of eight branches in Homagama, Nawala, Jethawana Rd, Colombo 14, Hambantota, Nuwara-eliya, Kurunegala, Galle and Anuradhapura.