---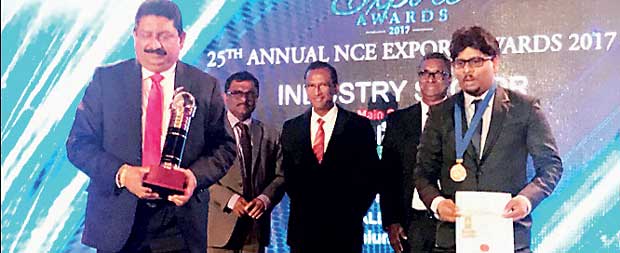 Venora Lanka's quest for excellence was recognized by the National Chamber of Exporters (NCE) at the 25th Export Awards held at Colombo Hilton recently. Venora Lanka clinched the Bronze category Award in the industry sector.

Venora Lanka Power Panels (Pvt) Ltd is an export oriented manufacturer who has its state of the art Factory at the Export Processing Zone, Biyagama. 'Venora Lanka' provides power panels to Mega Projects in Sri Lanka and exports to Bangladesh, Maldives, Kenya, Ethiopia, Seychelles and Myanmar. Our panel assembling is strictly in compliance with IEC 61439 standard.

Venora Lanka firmly believe that, being a truly customer focused organization, every employee and every process in the organization has to be aligned behind delighting customers. At Venora Lanka we do not try to change customers mindset, instead take the time to understand what they really want and focus our Brand on delivering that. Venora is values driven first and cost driven second – creating a unique 'Brand Proposition'.

The company has several wings of operation such as local and overseas projects, switch board assembling, telecommunication infrastructure installations, earthing, lighting and surge protection incorporating world renowned brands. Within a short span of time, with the perfect blend of progressive thinking and expertise, Venora Group has expanded to Consist Venora International Projects, Venora Telecom, Venora Industrial Solutions and Venora Lanka Power Panels (BOI approved). Further, Venora has established its overseas presence through Venora Engineering Kenya and Venora Engineering Myanmar.

Venorahas been recognized by the award for Quality and Business Prestige in November 2005 in Geneva Switzerland, Arch of Europe for Quality and Technology- Frankfurt in 2012. Best Enterprise & the Manger of the year in Sri Lanka – EBA Award with UK Trade Marks –Socrates Award – London, 2013. Being the very first Sri Lankan Company to receive the license in accordance with UK Trade Mark Act 1994 to use the Trade Mark "Best Enterprise". Global Award at the Golden awards for Quality and the business prestige held in Geneva Switzerland, in the year 2015.