---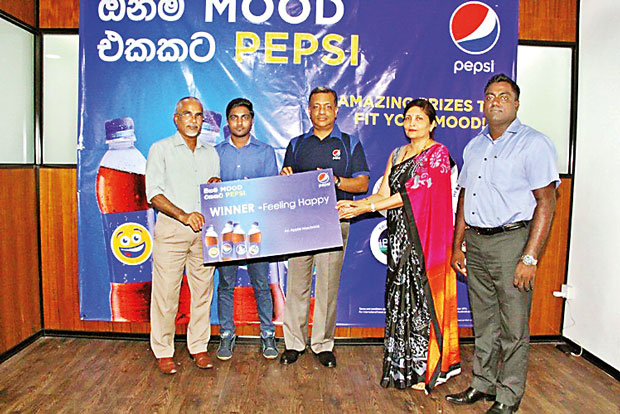 CEO Ajay Bhartia, General Manager Marketing and Key Accounts Dulanee Weerackody and Iranga Dharmawardhana hand over prize to winner Tevin Wijerathne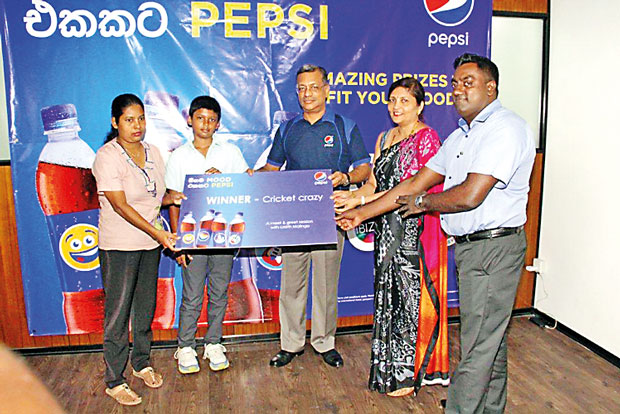 CEO Ajay Bhartia, General Manager Marketing and Key Accounts Dulanee Weerackody and Iranga Dharmawardhana hand over prize to winner Wimal Dissanayake
Varun Beverages Lanka (Pvt.) Ltd announced the winners of the recently conducted popular 'Pepsimoji' competition, which attracted a record number of entries from across the island.
Eligibility included purchase of 500 ml Pepsi 'Single Serve Bottles', one litre and two-litre PET Pepsi bottles. The mechanics of the competition included SMS of a unique code underside the bottle cap to a number provided on the front of the label. SMS entries were put through a randomizer to arrive at winners in a total of 37 categories.
A total of 37 category-wise prizes included a Macbook, romantic trip for two to the Maldives, Ibiza and Las Vegas, vouchers for food outlets, meet-session with Lasith Malinga and tickets for two for a Colombo music festival.
Winners of 'Feeling Happy' category – an apple Macbook and 'Cricket Crazy' category – A Meet and Greet session with Lasith Malinga received prizes from CEO Ajay Bhartia, General Manager Marketing and Key Accounts Dulanee Weerackody and Iranga Dharmawardhana.
"We are pleased with the outcome of the competition in terms of the number of entries we received, reflecting the Pepsi consumer trend in the cities and expect a continued growth in both value and volume for this internationally acclaimed brand. With a steady demand from consumers, we forecast a healthy value growth over the forecasted period," stated Weerackody.
Varun Beverages Lanka (Pvt.) Ltd is the sole franchisee bottler for PepsiCo and Ole Products in Sri Lanka, manufacturing and marketing PepsiCo's brands of carbonated and non-carbonated soft drinks and packaged drinking water.