---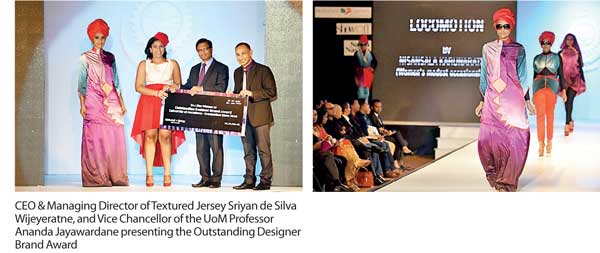 The 10th graduation fashion show of the University of Moratuwa (UoM), Department of Textile and Clothing Technology, went on the ramps at Galadari Hotel on 30th April.
The fashion show held under the patronage of Textured Jersey Lanka PLC (TJ), the premiere fabric manufacturer of the region, for the third consecutive year was a glittering event orchestrated and presented by students, to showcase the innovative skills and talent of the Department's graduating class.

The fashion show attended by industry specialists, academia and the fashion loving public, had over six hundred people participating.
A significant change this year was the strong synergy between industry and academia, which was highlighted inthe collections presented by the students. Especially, the first segment of the show, were designs made up using fabric engineered by second yearstudents supported byTJ. The company selected 4 textile solutions out of 20 collections presented, where fourwere selected for production by the Company for their clients Calvin Klein (CK) and Intimissimi.The fist textile creations by students to go into commercial production, TJ ensured that these fabrics were produced on time to debut at the Graduation Fashion Show.

Sriyan de Silva Wijeyeratne, CEO & Managing Director of Textured Jersey, addressing the gathering said, "Academia also needed to come together to create platforms with national significance that will bring broader communities locally and internationally into the country, who would find greater opportunity to help them shine and grow, reiterating that he looked forward to a continuing relationship with the university through theirMoU and other partnerships.

Of the 43 students who graduated from the Fashion Design Degree of the Department of Textile & Clothing Technology the best 23 showcased their collectionson the catwalk. Each comprised of six outfits designed bya single student. A range of men's and women's wear for all seasons and occasions were displayed. This year's designs had been inspired by world-class brands such as Vivienne Westwood,Jean Paul Gaultier, Junya Watanabe, Dries Van Notenn andMoschino casual Wear.

The spectacular evening of glamour and fashion ended with the graduation ceremony.Seven young peoplereceived special recognitionfor their outstanding performances. The Serendib Inspirational award for the student who had best used craft based skills or industrial competencies went to Sudheshika Ekanayaka;the Most Commercially Creative Designer Award to Ranil Aththanayakaandthe Best fit TailoredMenswear Designer Awardto Sepalika Chathurangi.
The Creative Knitwear Designer award was won by PawaniEdirisuriya and the Innovative Designer award was presented to NayanaNilanga. UdithaBandaraPranegedara won the Innovative Textile Fabric Award while NisansalaKarunarathne bagged the Most Outstading Designer Brand, concluding the awards presentation.

The Vice Chancellor of the UoM Professor AnandaJayawardane addressing the gathering said that the 2016 Graduation Fashion show was another successful outcome of the University's efforts.