---
Union Bank of Colombo PLC set off to a robust start in 2021 financial year recording a notable growth in loans, which translated into higher earnings and asset quality in the three months to March 2021 (1Q21).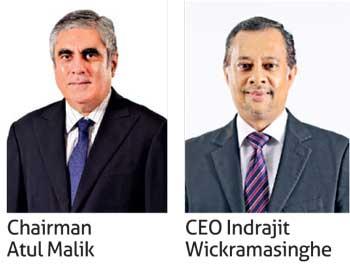 The bank reported earnings of 27 cents a share or Rs.297.07 million for the January-March quarter compared to 18 cents a share or Rs.194.9 million in the same period in 2020, an increase of 52 percent.

Along with the bottom line, the bank improved many other performance indicators from its net interest margin to asset quality to fee and other incomes—the latter was made possible by capital and exchange gains.
The performance marked a reversal from a year of subdued growth and earnings last year as the bank shifted gears to leverage from low interest rates and recovery in economic activity.

Union Bank, which remained conservative throughout last year, expanded its loan book by as much as Rs.4.3 billion or 6.1 percent in the first three months of 2021, a solid growth which translates to over 24 percent, when annualised.

The Central Bank targets 14 percent private sector credit growth in 2021.

"We are off to a positive start in 2021, and the first quarter performance signifies the bank's capacity to reach growth targets set for the year", said Union Bank CEO Indrajit Wickramasinghe, commenting on the bank's performance.

"While the credit demand had not picked up at the expected pace despite conducive market interest rates and concessions granted to customers, an uptick in economic activity contributed to the overall credit growth," the bank said in a press release.

The bank also improved its asset quality as measured by the gross non-performing loans ratio, which declined to 5.85 percent by March end from 6.05 percent in December 2020.

This is despite the bank on a standalone basis providing as much as 111 percent higher impairment provisions against possible bad loans in the first three months to Rs.196 million.

The banking group, which has a licensed finance company as a subsidiary— UB Finance Limited—made Rs.237.8 million as provisions, up 74 percent form a year earlier period.

The bank reported a net interest income of Rs.1.22 billion, up 3 percent form a year ago, which was made possible by the faster decline in interest expenses compared to the decline in interest income.

The bank improved its net interest margin slightly to 3.18 percent from 3.16 percent in December 2020 as the bank released some of its liquid assets, which are making nominal returns from government securities as loans, which generate relatively higher returns despite the lower rates.

Meanwhile the bank's deposits grew by Rs.1.4 billion to Rs.83.8 billion during the quarter under review.

Union Bank remains well funded, well capitalised and has adequate liquidity to power its growth in the remainder of the year.

Cayman Island-based Culture Financial Holdings Limited has 70.84 percent stake in Union Bank being its single largest shareholder.