---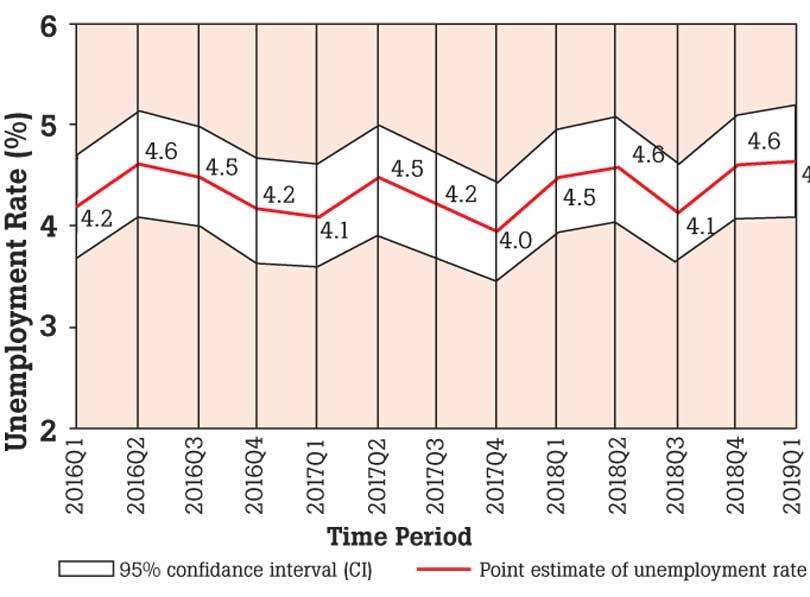 Sri Lanka's unemployment rate in the first quarter of 2019 (1Q19) edged up to 4.7 percent from 4.5 1Q18 even though 221, 612 new jobs were created from 12 months ago, the data released by the government statistics office showed.

The number of unemployed persons is estimated at 399, 784. Male unemployment rate in 1Q19 rose 3.4 percent from 2.9 percent from 12 months ago while female unemployment dropped to 6.9 percent from 7.4 percent.

This was reflected by the improvement in female labour force participation to 34.9 percent in 1Q19 from 33.5 percent in 1Q18. Male labour participation in 1Q19 remained flat at
73.4 percent.
Out of the total 8.12 million employed people 24.7 percent was employed in agriculture sector, down from 26.9 percent 12 months ago.

The industry sector employed 28.3 percent, up from 27.9 percent 12 months ago. The services sector employed 3.85 million people or 47.1 percent, up from 3.59 million or 45.2 percent in 1Q18.

The total number of males employed stood at 5.31 million in 1Q19, up from 5.29 million while the total number of females employed stood at 2.86 million, up from 2.66 million.

The highest unemployment rate of 21.66 percent was recorded among the age group 15-24 years amounting to 208, 107 persons, while by level of education the highest unemployment was recorded from the GCE (A/L) and above group, which is about 7.9 percent of
160, 379 persons.