---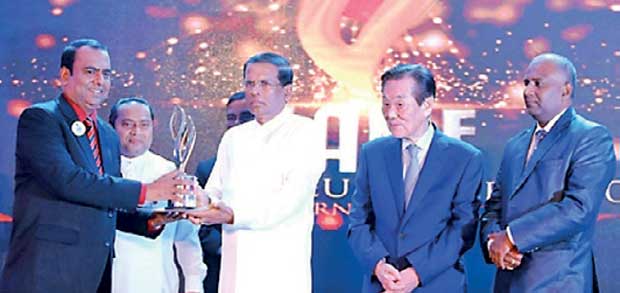 E. W. A. Harischandra, Managing Director of Umaya Enterprises, receiving the top award from President, Maithripala Sirisena. Isuru Devapriya, Chief Minister of the Western Province, is also in the picture
Umaya Enterprises was honoured with the excellence award as the most outstanding company for its contribution towards Sri Lanka's transport (rent a car) sector at the FLAME Awards – 2016 held in Colombo recently.
Launched in 1998 with a single hiring vehicle, Umaya Enterprises has grown significantly in size and stature over the years, and as a leading company in this segment, now operates a fleet of over 250 vehicles which have been given out on hire.
Expressing his views on wining this top award, E. W. A. Harischandra, Managing Director of Umaya Enterprises, said: "We were conferred with this award for our positive contribution towards the country's transport (Rent a car) sector and our community services towards the well being of society. We are deeply dedicated towards providing a trustworthy service of a high calibre to our clients at all times. Similarly, a considerable part of the profits we derive from our business is channeled towards social welfare."
Umaya Enterprises was established in 1998 with just one vehicle. Today, the company has given on hire more than 250 automobiles, including motor vehicles, vans and lorries to various institutions. Together with a team of disciplined drivers, the company employs a workforce of around 50. Umaya Enterprises also provides an around-the-clock, 24-hour emergency disaster service.