---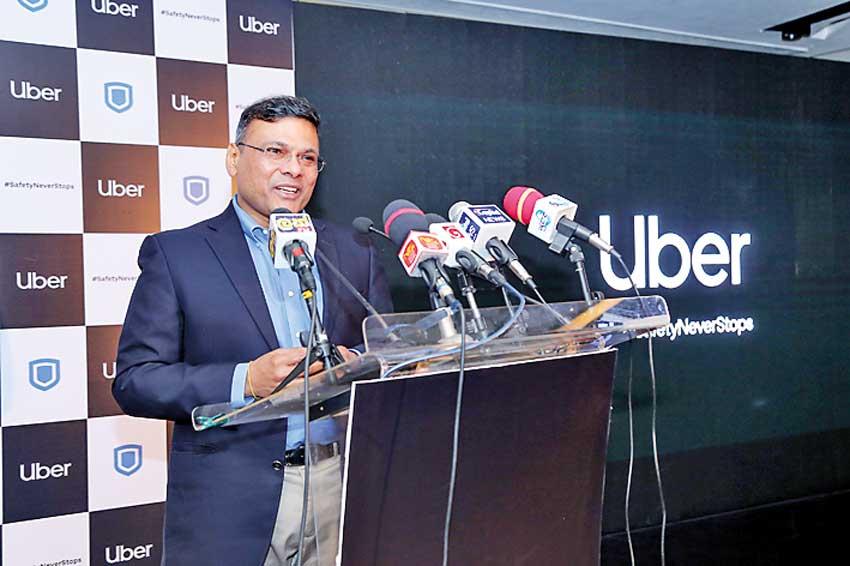 Pavan Vaish
Pic by Nimalsiri Edirisinghe
Says deeply committed towards ensuring safety of both riders and driver partners
Appoints dedicated law enforcement team to deal with local authorities
By Kamanthi Wickremasinghe
Following repeated incidents of violence, US-based multinational ride-hailing company Uber that commenced operations in Sri Lanka in 2016, yesterday announced several new safety features that Sri Lankan riders could use.

While explaining the number of features they have introduced, Pavan Vaish, Uber's Head of Central Operations for South Asia said that they are deeply committed towards ensuring the safety of both riders as well as driver partners.

"We have speed limit alerts, dos and don'ts in behaviour embedded among community guidelines, a Safety Toolkit feature for riders as well as drivers," he said during a media briefing in Colombo.
"We are already in pilot mode and will provide all the training to the drivers in Sri Lanka in the near future. "

Responding to queries on several incidents of violence unleashed on Uber riders in the recent past, Vaish said that Uber has appointed a dedicated law enforcement team to deal with local authorities.

"When it comes to driver registration we ask for their license, photo, vehicle registration documents, revenue license and insurance of the vehicle. We also encourage drivers to take the Police clearance certificate. If these documents are not authentic, we won't encourage them on the Uber platform."

Apart from briefing the audience on existing features such as the Safety Toolkit for both riders and drivers, Phone anonymisation, Realtime ID Check, Trusted Contacts, Insurance Coverage, Driving Hours Limit and Speed Limit Alert, Vaish also announced three new safety features including the Uber Safety Helpline which will provide riders with the option to get in touch with Uber's safety team, RideCheck which will enable Uber to flag certain trip irregularities and PIN Verification which is a feature to help ensure riders are getting into the car they are matched with through the App.