---
Recognised for delivering the highest quality engineering solutions and unmatched service support, United Tractor & Equipment (Pvt.) Limited (UTE) proudly celebrates its 70th anniversary this year.
Founded by W.D. Fernando in 1947 as a family-owned company, UTE began serving the nation as the sole Caterpillar dealer for heavy construction machinery. This vital partnership continues seven decades later thus making it one of the oldest Caterpillar dealers in Asia.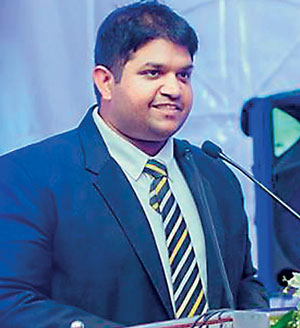 Today, UTE serves its customers through an extensive catalogue of products from world-class manufacturers and is active in mainstream markets for construction machinery, power generation, material handling and storage, welding equipment and engineering solutions.
Building on its rich legacy, the forward-thinking company has boldly begun a rebranding exercise, soon to be unveiled as 'UTE Engineering'. Categorised into two broad areas - Caterpillar and other Allied Products, the new brand is in line with the company's key areas of business and vision to be the best engineering solutions provider.
UTE's distinct milestones illustrate an impressive track record of contributing to landmark projects in the country. Playing a significant role in many of Sri Lanka's major infrastructure development projects since independence, UTE's Caterpillar construction machinery have been used extensively, especially in the historic Gal Oya project, accelerated Mahaweli project, Samanalawewa and Walawe projects and the country's largest multi-functional irrigation project to-date – Moragahakanda.
UTE has also played a pivotal role contributing towards the country's road construction industry through its involvement in the Southern Expressway and its extension and is one of the primary suppliers of equipment for the on-going Kandy Expressway. Supporting Sri Lanka Railways (SLR), UTE has played a major role in supplying the majority of locomotives and engines in the SLR fleet under Electro-Motive Diesel (EMD) and Cat brands offering superior rail reliability and unbelievable durability.
UTE is the first company to sell diesel-powered generators in Sri Lanka. Today, a large number of big and small buildings and power-critical installations are powered by Cat generators, which holds testament to UTE's involvement in the country's development during the past seven decades.
To enhance the logistics and material handling processes including modern warehousing, transport loading and unloading facilities for the country's vital import and export industries, UTE's clients depend on Dexion racking and shelving systems and BT warehouse trucks. Today, many of Sri Lanka's largest tea warehouses utilize these resources to optimize their facilities.
Driven by an entrepreneurial spirit, UTE remains today family-owned and continues to place relationships at the centre of its company culture. A majority of the company's customers and contractors have interacted on business transactions over a long period contributing steadfastly to the company's mission of working side by side providing a world-class customer experience. Complementing its product portfolio is UTE's service excellence and spare-part support that is unmatched in the industry. UTE's employees are guided by a set of core business values which ensure an uninterrupted journey long after the sale.
UTE has over the years constantly invested and expanded its product support capabilities in line with world-class dealers. The company has been conferred Silver Service Excellence Certification by Caterpillar Inc. and is the sole provider in the power generation engineering solutions sector to successfully achieve the new ISO 9001:2015 certification standard for Sales and Marketing of Power Generators with Related Engineering Solutions.
"UTE has a long and successful history founded on hard work and unrivalled customer service and is proud to be recognised as the engineering solutions provider of choice. As we transform into a world-class organisation we continue to embrace the newest technology, invest in our people and ensure your journey is smooth," affirms UTE Chairman Prasan Fernando.
Instead of resting on the laurels of its phenomenal achievements of the past, UTE looks towards introducing innovative products and solutions, helping customers in meeting future challenges and the changing global landscape. Together with Caterpillar, UTE is in the forefront of helping the nation through new energy solutions that reduce energy costs and provide reliable power generation. Caterpillar's Microgrid solutions integrate renewable energy such as solar power and helps deliver reliable, cost-effective and sustainable energy for customers.
Additionally, Caterpillar's engines and machines have been engineered to set new standards in emission control, fuel efficiency and performance supporting a sustainable environment. Through UTE, local customers will soon be able to experience Caterpillar's hydraulic hybrid technology which conserves and reuses energy ensuring maximum productivity.
Understanding the growing issue of space limitations faced by customers, UTE offers sophisticated racking systems, BT/Raymond Warehouse trucks for narrow aisles and Dexion tailor-made shelving solutions, allowing customers to do more with their limited storage spaces.
Playing a key role in creating skilled technical professions, UTE conducts advanced training programmes to provide career opportunities in the engineering field for Sri Lankan youth. UTE's training centre provides a comprehensive technical training curriculum with modern teaching methods and facilities to mould local technicians into a more skilled, forward-looking workforce.