---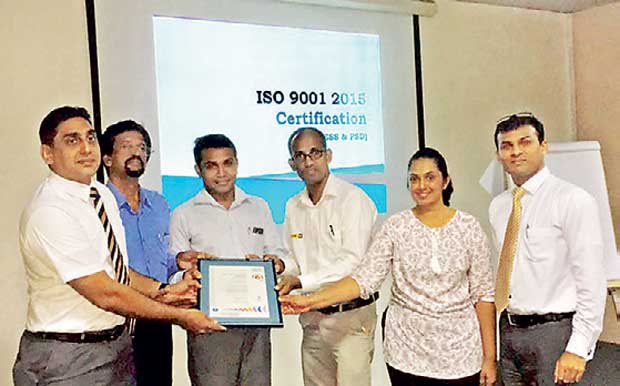 UTE team with the ISO certification. From left: Riyad Ismail, CEO, Yasa Bandara – Head of ESS & Ecologic Systems, Indika Thushara – Manager ESS, Ranil P Maddepola – Manager Power Systems, Dulika Rodrigo, Six Sigma Black Belt, and Tharaka Dayabandara, Head of Six Sigma Division/Master Black Belt
United Tractor & Equipment (Pvt) Limited (UTE) is one of the first companies in Sri Lanka in the power generation engineering solutions sector to successfully achieve the new ISO 9001:2015 certification standard for sales and marketing of power generators with related engineering solutions.
UTE also received the prestigious EM1 accreditation for Electrical Installations by the Construction Industry Development Authority (CIDA), the country's apex accreditation institute for construction and civil engineering. Awarded by SGS UK, the newly updated and strengthened ISO 9001:2015 certification places greater focus on customers; achieving conformity of product and services while meeting customer needs and expectations.
This internationally-recognised standard for quality management helps organisations form a solid consistent base for sector standards enhancing customers' confidence right through the supply chain in the products and services they receive from their certified supplier. Both these significant standards showcase UTE's continuous commitment to quality and customer service. Spearheading these efforts is UTE Engineering Solution Division which prides itself on providing customers consistently high quality products with unique value added aspects. "Quality is one of our pillars that reflect our corporate values and commitment to uphold the highest standards. The ISO certification and CIDA accreditation demonstrate to customers that we always strive to deliver products and services of consistently high quality, driven by an expert and talented team," said Yasa Bandara, Head of ESS & Environmental Engineering, UTE.
Many companies in the country engage in selling and importing generators. However, based on customer requirement's UTE provides several value additions necessary for a successful installation. Among the unique capabilities of the division which sets it apart from others in the industry is the ability to design, fabricate and install turnkey switchgear projects. Importantly UTE has the capability of customizing control panels according to customer requirements, eliminating the need to import expensive equipment and incur foreign exchange outflows.
Offering a complete solution UTE also engages in generator synchronizing and control systems, pump control panels, supply of fuel tanks, pumping systems, reducing emission levels, maintaining high standards and in adherence to regulatory sound levels. Several noteworthy ESS projects in the public and private sector have drawn praise and commendation. Among them are the control panels for the new building housing the Department of Immigration and Emigration in Sri Lanka and the generators and allied solutions for the two new state-of-the art Tier3 level data centers.