---
Calls for budgetary commitment of US$ 122.5mn over next 10 years
Says every US$ 1 spent on food security will derive benefits worth US$ 2.6
Urges govt. to explore available financial instruments to make the commitment
Also stresses the need for private sector involvement
Sri Lanka will be able to reap considerable socio-economic benefits from improved food security if the government stands ready to commit a budgetary commitment of US$ 122.5 million over the next 10 years, according to a United Nations Industrial Development Organisation (UNIDO) study.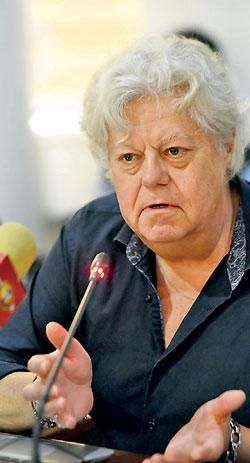 Dr. Ian Goulding
Pic by Kithsiri de Mel
The agency said an investment of US$ 30 million and an annual net budgetary commitment of US$ 9 million will lead to an increase in Sri Lanka's annual agriculture export values by 24
percent over 10 years.

The commitment would also help reduce the number of food-borne illnesses (934,000 cases and 113 deaths-annual average), which in turn would add approximately 2.5 percent to the gross national product (GNP).

The study reveals that the said investment would also allow 122,236 persons to secure employment in the agriculture and food industry.

"Investment in upgrading the agri-food sector would deliver benefits corresponding to US$ 3.6 billion over the 10-year period and this implies that for every US dollar spent on improved food safety, Sri Lanka would derive benefits worth US$ 2.6," UNIDO International Expert on Food Safety Systems Dr. Ian Goulding said.

In terms of national economic impacts, the additional value generated by safer food after 10 years would boost the annual GDP from US$ 18.97 billion to US$19.55 billion, an increase of about 3.1 percent.
The expert shared the analysis while presenting the findings of an analytical study that explored the socio-economic costs and benefits of food safety reforms in Sri Lanka.

However, he stressed that to obtain these benefits, food export business operators (FBOs) and their suppliers would need to invest approximately US$ 822 million in upgrading factories, equipment, staff training and strengthened control systems.

Furthermore, they will also need to sustain an additional annual operating cost averaging US$ 43 million.

"Even with such substantial financial inputs required to improve food safety, the net benefits are highly positive," Dr. Goulding said.

Acknowledging that Sri Lanka does not have the required finances to pump in, Dr. Goulding stressed the need for the relevant authorities and key stakeholders to study the available financial instruments. He stressed that with there being clear justification to upgrade the country's food safety systems, commitment from the government and a considerable proportion of investment from the private sector is necessary.
(SAA)