---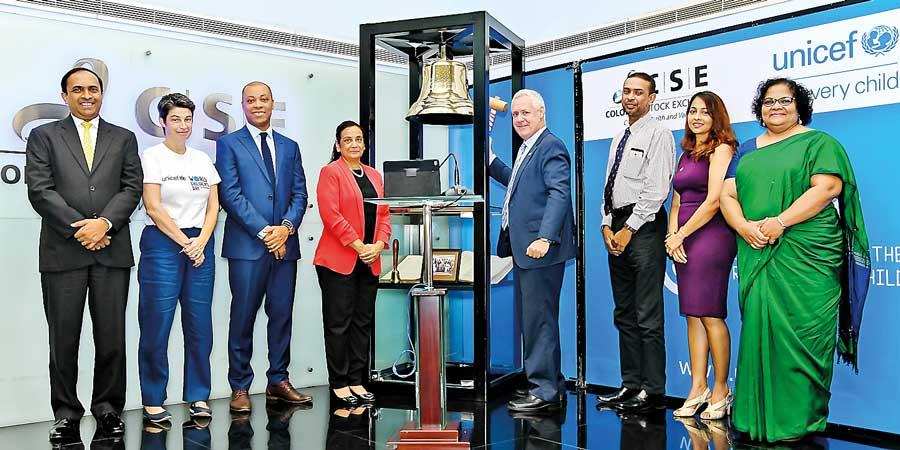 From left: CSE CEO Rajeeva Bandaranaike, UNICEF Deputy Representative Emma Brigham, UNICEF Communication Specialist Jeremy Sprigge, Acting United Nations Resident Coordinator Dr. Razia Pendse, UNICEF Representative Tim Sutton, UNICEF Child Protection Officer Mihilar Mohammad, UNICEF Finance Officer Ruthie Pelpola and UNICEF Health and Nutrition Officer Dr. Dhammica Rowel
By Shabiya Ali Ahlam
The United Nations Children's Fund (UNICEF), as it celebrated 30 years of the United Nations Convention on the Rights of the Child (UNCRC), yesterday called on the local business community to partner with the agency in the journey towards ensuring every child survives, thrives and reaches his/her full potential.
Ringing the trading bell at the Colombo Stock Exchange (CSE), UNICEF Sri Lanka Representative Tim Sutton asserted that while the island nation has been successful over the years by adopting and fulfilling the UNCRC, the private sector could explore avenues to help the agency to fulfil the six challenges that are yet to be addressed in the case of rights of children.
"It has been 30 years since 190 countries, including Sri Lanka, adopted the convention and there has been no change on child rights. What has changed are global issues and the emergence of new threats to their rights.

"We must look ahead to the future of childhood and commit to urgent, concrete action to address the unmet needs of children now and in the future generations. To do this, we need your support," Sutton said.

UNICEF Sri Lanka highlighted six critical issues faced by the country's six million children, which require urgent attention.

The agency stressed that Sri Lanka must end child malnutrition forever, build an education system that prepares the younger generation for the future, give every child a fair chance to succeed by ending child poverty, ban damaging physical punishment against children, create an inclusive and peaceful Sri Lanka for all and fight climate change and prepare Sri Lanka for its effectiveness.

"If these are tackled, Sri Lanka will unlock the full potential of its young people and drive the country's sustainable development for generations to come," expressed the UNICEF representative, who added that the tackling of the six major challenges would require commitment, determination, expertise and partnership.

Meanwhile, Sutton applauded Sri Lanka for its continuous efforts in putting children first, where measures were taken to lift millions of families from extreme poverty and reduce drastically the mortality for children under five years.