---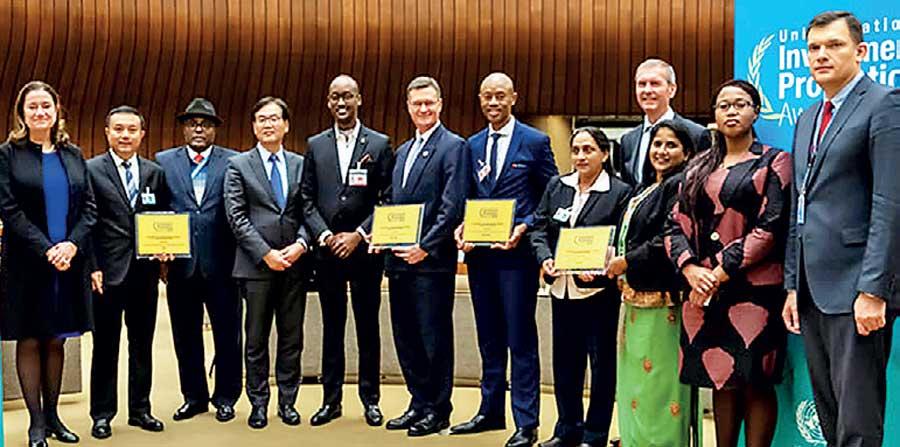 The United Nations Conference on Trade and Development (UNCTAD) has recognised Sri Lanka's Board of Investment (BOI) for its excellence in promoting sustainable investment in special economic zones.

The BOI along with Investment promotion agencies and special economic zone authorities from China and South Africa received awards on November 11 during the eleventh session of UNCTAD's Investment, Enterprise and Development Commission held at the UN's offices in Geneva, Switzerland.

The awards were presented at the second Ambassadors' Roundtable on Investing in the Sustainable Development Goals (SDGs).

BOI secured the award for its strategic approach in targeting investors in solar panel manufacturing and for facilitating a US$ 36 million investment by JSF Corporation, a subsidiary of REK Co. Ltd. In Japan.

This was the first solar panel manufacturing project in the country, located in the Katunayake Export Processing Zone.

The plant produces for both domestic and export markets and contributes to the country's goal of boosting renewable energy.

The project has generated 100 direct and 500 indirect employment opportunities.

"Projects and initiatives of this nature are needed to fill the funding shortfall of trillions of dollars to achieve the SDGs," said UNCTAD's Director of Investment and Enterprise, James Zhan.
He called on investment promotion agencies and special economic zones to direct more foreign investment to SDG-related projects.
UNCTAD awards investment promotion agencies and other organizations for their efforts to promote investment for sustainable development. For the past three years, the awards have been dedicated to promoting investment that contributes to the SDGs.

Since 2002, 58 agencies and organizations from 46 countries have received awards or special recognition from UNCTAD for best practices in investment promotion and facilitation.