---
Colombo-based free market think tank Advocata says the recent SriLankan Airlines corruption scandal aptly shows the urgent need for deeper structural reforms in the country's State-Owned Enterprises (SOEs).

It has recently been revealed that Airbus SE paid the wife of a SriLankan Airlines executive US$ 2 million, out of a US$ 16 million bribe over a large Airbus deal.

Following this, President Gotabhaya Rajapaksa has ordered an inquiry over these allegations.

"While Advocata welcomes the President's decision to order investigations, we also urge the government to attend to the deep-rooted issue of systemic misgovernance embedded in Sri Lanka's State Owned Enterprises (SOEs)," the think tank said in a media statement.

SOEs such as SriLankan Airlines continue to remain a large burden on Sri Lanka's debt-ridden treasury.

SriLankan Airlines has accumulated a net loss of Rs.17.2 billion solely for the year 2018. To-date, the airline has accumulated losses worth Rs.69 billion since nationalisation in 2009.
In 2018, a special report on the airline by the Auditor General's Department found various accounts of malpractice across the enterprise, including, failure to follow procurement guidelines in the selection of consultative companies, failure to introduce formal control systems for the implementation of plans, lack of proper cost-benefit analysis in validating expansion of the fleet of aircrafts, failure to conduct proper analysis on the method of selection for acquiring aircrafts and failure to follow government procurement guidelines in the acquisition of aircraft.

Advocata's recent report on 'The State of State Enterprises in Sri Lanka' reveals that SOEs are vulnerable to mismanagement and corruption because of potential conflicts between the ownership and policy-making functions of the government, and undue political influence on their policies, appointments, and business practices, as evidenced by the recent SriLankan Airlines scandal.

The think tank proposes three key recommendations to address the issue. They are; proper functioning of the National Procurement Commission, implementation of e-government procurement and introducing procurement auditing to public procurement to prevent fraud and ensure reliable financial reporting. "There is no pride having a corrupt and a loss-making airline burdening the taxpayer. It's a national liability rather than a national asset. A national financial crime rather than a national pride. There is institutionalised corruption, mismanagement and lack of accountability in these enterprises that demand urgent reform,"Advocata Institute Chief Operating Officer Dhananath Fernando said.

---
AirAsia's Fernandes steps aside amid Airbus bribery probe
(Kuala Lumpur) AFP: AirAsia's colourful chief executive Tony Fernandes has stepped aside from the company while authorities probe unusual payments at the Malaysian carrier, as the fallout from a US$ 4 billion bribery fine at Airbus reverberates across the industry.

The shock decision came after Britain's Serious Fraud Office (SFO) released details of a probe that found individuals associated with the planemaker had paid to secure deals with AirAsia and its long-haul unit AirAsia X.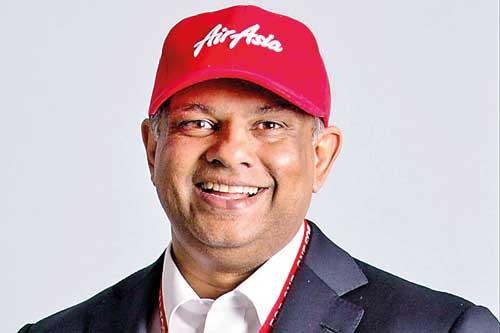 Tony Fernandes
Fernandes and executive chairman Kamarudin Meranun said in a statement late Monday: "We are relinquishing our executive roles with immediate effect for a period of two months, or such other period that the companies may deem fit." They added that they "categorically deny any and all allegations of wrongdoing or misconduct on our part as directors of AirAsia. We would not harm the very companies that we spent our entire lives building up to their present global status". They will remain with the airline as advisors, they said. Malaysia's anti-corruption commission said on Saturday it was empowered to investigate any act of corruption committed by citizens or permanent residents anywhere outside the country. Two other agencies in Malaysia, including the aviation agency and the Security Commission, reportedly have started their own probe. Fernandes has been one of Airbus' most loyal customers and his Malaysia-based budget airline, which he bought for one ringgit (25 cents at the current rate) in 2001, is the European manufacturer's largest customer for single-aisle jets. The news sent shares in AirAsia plunging more than eight percent Tuesday, having already plummeted more than 10 percent the previous day following the release of the SFO's investigation.

Tan Kam Meng, analyst with local brokerage TA Securities, warned of further losses if Fernandes and Kamarudin are charged. "If the probe is unfavourable against them or they are charged in court, the impact will be a disaster to shareholders," he told AFP. "I am shocked by the news of the bribery." The losses have been compounded by the deadly Chinese virus outbreak that has seen several airlines cancel flights to the country, which is one of AirAsia's most profitable routes.

"It is a double whammy for AirAsia," analyst Tan said.

A French court last week said Airbus had agreed to pay 3.6 billion euros (US$ 4 billion) in fines to Britain, France and the United States to settle corruption inquiries sparked by suspicious equipment sales.

A court document on the SFO website says EADS France SAS - which was later renamed as Airbus Group SAS -- paid $50 million as sponsorship for a sports team owned by two unnamed AirAsia executives.

"Key decision makers" in AirAsia and AirAsia X allegedly rewarded the firm with an order of 180 aircraft from Airbus.

The flamboyant Fernandes has carved an image for himself as Asia's answer to Richard Branson, shaking up Southeast Asian air travel with his carrier's slogan "Now everyone can fly". Fernandes and Kamarudin have not been shy in flaunting their wealth and both once owned the now-defunct Caterham Formula One racing team, while they are also majority owners of London football club Queens Park Rangers.