---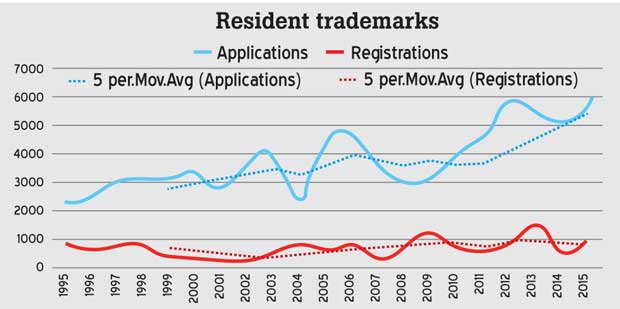 By Shabiya Ali Ahlam
Delays in local trademark registration process could undermine the massive benefits deriving from Sri Lanka's decision to comply with the Madrid Protocol, according to the Colombo-based think tank,
Verité Research.
The Madrid Protocol administered by the World Intellectual Property Organization (WIPO) is a centralized global system for registering and maintaining trademarks in foreign countries.
The present coalition government in its maiden budget allocated Rs.100 million to fast track accession to the Madrid Protocol. But the government is yet to iron out issues on the home front, specially at the state agency level, to fully embrace and benefit from the system.
Registering trademarks locally is an important first step for any company that seeks to register its brand abroad to reap benefits from the global system. But it appears major bottlenecks exist within the local trademark registration process.
Verité Research revealed that the National Intellectual Property Office (NIPO) of Sri Lanka takes approximately three to five years to process a trademark registration application, whereas the ideal processing period should be no more than 18 months.
When Sri Lanka's position with regional peers is compared; Singapore processes applications within 8 -12 months, India and Pakistan within 12 plus months, and Bangladesh within 18 -24 months.
Verité Research Executive Director and economist Nishan de Mel asserted that having to wait for 48 - 60 months before applying for international registration undermines the gains of Madrid Protocol.
With Sri Lanka still not being a signatory of the Madrid Protocol, to go global, companies are required to register in each of their target markets with separate applications, making the process a time-consuming and a costly exercise.
Meanwhile, lack of stakeholder consultation was highlighted by Verité Research as a major deficiency in the manner the government agencies are handling the Madrid Protocol accession process.
Despite a year has been passed since the proposal to accession was made, stakeholders are not informed or made aware of the progress Sri Lanka has made.
"In order to integrate accession to the Protocol into the overall trade strategy of the country, involvement of exporters as well as export promotions agencies is essential," stressed de Mel at a press conference yesterday that was aimed at shedding light on the issues local entities are facing during trademark registration.
The media briefing that was attended by top officials of the Export Development Board (EDB) and the National Chamber of Exporters (NEA) did not see any representation from the NIPO.
As a result of bottlenecks at home, de Mel warned Sri Lanka runs the risk of being compliant with Madrid requirements without being able to truly benefit from it.
"To gain its full benefits, Sri Lanka must think beyond mere compliance. This must be done by taking measures to address the current bottlenecks faced by Sri Lankan companies registering their trademarks at home," he noted.