---
By Lahiru Pothumulla
Trade Minister Bandula Gunawardana said he proposed to the President and the Cabinet this week to allocate half of the export CESS tax revenue to assist entrepreneurs through the Export Development Board (EDB).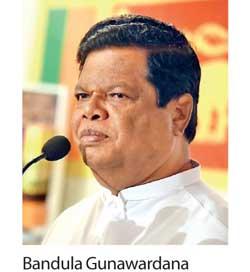 Speaking at an event in Colombo on Wednesday, Minister Gunawardana said, as the Trade Minister, he would continue to push the government to give more backing to entrepreneurs.

"I requested the President and the Cabinet, that the CESS tax on exports, should be utilised for the promotion of entrepreneurs. Although the entire CESS tax revenue should be moved to the EDB as per the Act, it doesn't happen. Therefore, I proposed that at least half of the revenue to be taken to the Treasury and the other half used to promote entrepreneurs through the EDB. The President and the Prime Minister agreed and said this can be done in the coming years," he noted.

If the export CESS tax revenue was allocated to the EDB, Gunawardana said the EDB could readily provide entrepreneurs with technological assistance, funds, and market promotional opportunities.
"We earn about US$ 12 billion per year from exports but we spend US$ 22 billion on imports. Each year, the trade deficit continues at a rate of US$ 10, 12 or 15 billion. To narrow this, we need to reduce imports and increase export income. There are three ways to increase exports—product diversification, market diversification and innovation," he said.