---
The controversial Economic and Technical Cooperation Agreement (ETCA) currently being negotiated with India may not create market access and competition in the scale that is expected by Sri Lanka due to toxic politics that have prevailed between the two countries for a long time, a leading economist and a policy analyst opines.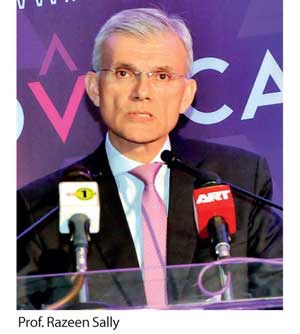 According to Prof. Razeen Sally, an Associate Professor at Lee Kuan Yew School of Public Policy at the National University of Singapore, the politics played at both sides of the negotiation table could undermine the true results intended from the trade pact.
"We are not going to see that many new markets opened, new competition and forging of much deeper integration between Sri Lanka and India because of politics of both sides and particularly of politics here (Sri Lanka)," he noted.
Prof. Sally, who is also the Chairman of Institute of Policy Studies in Sri Lanka, a State-funded policy think tank—noted that the realizing of the true potential of the agreement is doubtful given the significantly high level of protectionism on the part of India when entering into trade pacts, as already seen from the unresolved non-tariff barriers (NTBs) of the existing Indo-Lanka Free Trade Agreement (FTA).
The current administration and a section of economists appear to believe that the proposed ETCA as a panacea for all economic ills of Sri Lanka. However, they admit that NTBs are a key issue when trading with India.
The defensive mechanisms and the parochial mindset of the Lankans could also weigh on the proposed agreement's intended results.
While agreeing that Sri Lanka needs to forge better economic links across the Palk Strait, given its location, Prof. Sally cast his doubts over the success of the final product because Sri Lanka's track record in trade negations remain poor.
"The negotiations weren't prepared here and certainly the communication with the Sri Lankan public was not done", Prof. Sally told a public seminar in Colombo organized by Advocata Institute, an independent public policy think tank, jointly with the business magazine, Echelon recently. He stressed not just the ETCA, but even the other bi-lateral trade pacts negotiated with China and Singapore, will not result in higher trade and other intended economic outcomes without the fundamental reforms in the economy.
"None of them (FTAs) is going to make a serious difference to the Sri Lankan economy at the way it operates. It requires much more fundamental reforms", he added.
He insisted on policy makers to forging better links with the four states of South India."We need much better bi-lateral links with four States of South India in addition to the ETCA negotiations," he said.
However Sri Lanka relations with the government of Tamil Nadu is strained over the alleged violation of human rights of the Tamils in the North and the illegal fishing by the South Indian fishers in Lankan waters risking the livelihoods of the Northern fishing community.
Prof. Sally, who is a classical liberal economist, was of the view that Sri Lankan businesses should plug themselves into the South Indian supply chains to make use of those links as a springboard to reach global markets.
But there is a significantly higher trade imbalance between the two countries. Trade data between the two countries for 2015 showed Sri Lanka had imported US $ 4.3 billion worth of goods from India while exporting only US $ 643 million worth of goods to India.
Prof. Sally also said Sri Lanka must invite the first tier, highly respected South Indian business houses to learn from their best practices and create competition in the local market, which is now dominated by a few who do not want competition.
"We need more competition and best practice among first tier Indian business houses starting with South Indian business houses like Murugappa in Chennai. This is precisely what Sri Lanka needs and that should be a platform for better Sri Lankan companies to go global", he remarked.
Speaking about the movement of people under ETCA, which is now under negotiation, Professor Sally welcomed the move and said Sri Lanka needs Indian professionals to overcome mediocrity in the local talent pool.
"In reality, we need Indian professionals in Sri Lanka. We need professionals and intellectuals from all over the world partly to overcome the mediocrity of those who are in commanding heights in business in Sri Lanka."