---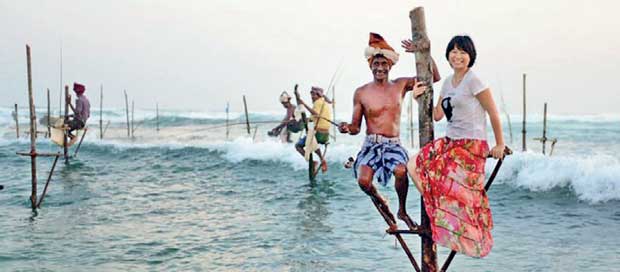 Chinese tourists continue to flock to Sri Lanka
Photo courtesy South China Morning Post
After two months of negative growth, tourist arrivals to Sri Lanka rebounded 17.5 percent year-on-year (YoY) this April to reach 160,249 tourists, following the resumption of normal operations at the country's main international airport in Katunayake and due to Easter holidays. Arrivals from Western Europe, the country's main regional market, grew 40.9 percent YoY to 55,304 fuelling the strong growth for the month. Sri Lanka Association of Inbound Tour Operations Chairman Devindra Senaratne told Mirror Business that the Easter effect may be one of the reasons for the increase. "It's an unusually high growth, but compared to previous years, Easter was in the middle of April, compared to end of March or early April, and since they (Europeans) get a full week of holidays, they may have delayed travel in previous months to come in April," he said.
Jetwing Group Chairman Hiran Cooray too, while noting that Easter may have played a part, noted that good weather, combined with tourists who may have delayed their holidays in Sri Lanka due to the partial airport closure, may have contributed to the high growth.
Finalization of the UK's exit from the European Union doesn't seem to have affected perceptions of outbound tourists from Britain, from which Sri Lanka sourced 17,841 tourists, growing 48.6 percent YoY. The German market too grew at 47.1 percent YoY to 11,866.
However, the French market recorded the lowest regional growth of 3.8 percent YoY with 7,804 tourists, despite Sri Lanka hosting the flagship French travel industry summit last year in the hopes of attracting higher French arrivals.
Arrivals from the neighbouring South Asian region fell 2.6 percent YoY to 36,358 visitors. Sri Lanka's single largest market, India, grew 1.7 percent YoY to 26,323 tourists. The fall in South Asian numbers stemmed mainly from the Maldives, where continuing political unrest, coupled with a massive outbreak of the H1N1 virus in March, may have contributed to arrivals falling by 13.6 percent YoY to 5,791 tourists.
Traffic from East Asia grew 7.8 percent YoY to 32,122 tourists, backed by a 4.5 percent growth in the Chinese market, from which 19,823 tourists arrived, while the Japanese market expanded 7.3 percent YoY to 3,404 tourists.
Eastern Europe arrivals grew 15 percent YoY to 12,981, with a 12.8 percent YoY growth in Russian arrivals to 4,602, and a 34.2 percent YoY growth in Ukrainian arrivals to 3,138.
The Australasian market grew 46 percent YoY to 7,747 tourists, while the North American market grew 16.7 percent YoY to7,433 tourists and the Middle Eastern market grew 14.1 percent YoY to 6,624 tourists. For the first 4 months of 2017, Sri Lanka attracted 765,202 tourists, growing just 6.1 percent YoY due to airport closure, compared to the 17.07 percent growth required to meet the government arrival target of 2.4 million tourists for this year.
---
Tourism authorities to release more data under RTI
The Sri Lanka Tourism Development Authority (SLTDA) will begin publishing a wider range of statistics and information on a regular basis in the future, to comply with the Right to Information (RTI) Act.
"Some of this information we have to collect from third parties so it takes some time. In the past we published them in the annual report. But we are looking at publishing them quarterly," SLTDA Director General Malraj Kiriella told Mirror Business.
The SLTDA annual report includes a comprehensive collection of supply side statistics, including on accommodation and other attractions. SLTDA currently issues monthly bulletins on arrival figures.
Supplementary RTI regulations call on public institutions to proactively disclose indices of databases and data which stakeholders would require on a regular basis, in addition to over a dozen other criteria, including information on tenders, plans, strategies, employee remuneration and public consultations.
Tourism Development and Christian Affairs Ministry Secretary Janaka Sugathadasa said that the tourism authorities will become compliant with the RTI regulations in the future.
"The Act was only passed a couple of months ago. It takes some time, but we will fully comply with it in the future," he said.