---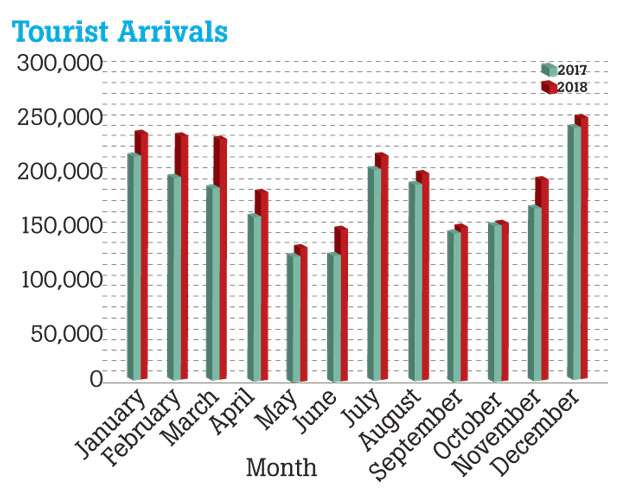 Tourist arrivals to Sri Lanka grew 10.3 percent to 2,333,796 from the previous year with December seeing the arrival of the highest number of tourists for a month despite the political turmoil that rocked the island nation from October 26 to the mid part of December.

Tourist arrivals in December 2018 rose 4.4 percent to 255,221 over the previous year, the data released by the Sri Lanka Tourism Development Authority (SLTDA) showed.

However, Sri Lanka missed the 2.5 million arrival target originally set for 2018.

The SLTDA said in terms of arrivals, the months of March, February, June and November recorded the highest growth rates while the month of December recorded the highest number of arrivals of 253,169 for the year 2018.
Despite the solid December arrivals, Tourism Development, Christian Religious Affairs and Wildlife Minister John Amaratunga said the 2018 arrivals were affected by the political instability post-October 26, which led to Sri Lanka falling short of the 2.5 million arrival target set for 2018.

Tourism earnings in the first 10 months of 2018 rose 10.6 percent from a year ago to US $ 3.5 billion, the Central Bank data showed. The government had set a US $ 4.5 billion earnings target for 2018.

Meanwhile, Amaratunga noted that with the Lonely Planet magazine ranking Sri Lanka as the No. 1 destination to travel in 2019 and the new promotional plans, he is optimistic Sri Lanka would receive four million tourists and generate an income over US $ 5 billion by the end of 2019.

According to the SLTDA, India, China, the United Kingdom and Germany continued to dominate as top source markets to Sri Lanka in 2018 and a significant growth of arrivals was seen from Australia.