---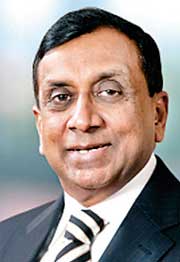 Poor returns from tourism in Maldives and losses in energy business have trimmed Sri Lanka's Aitken Spence PLC's December quarter (3Q16) net profits by as much as 26.7 percent to Rs.637.5 million from a year ago, the interim results showed. The group earnings per share (EPS) for the quarter d r o p p e d to Rs.1.57 from Rs.2.14. The group turnover, post revenue tax, declined 14.3 percent year-onyear (yoy) to Rs.6.6 billion.
Meanwhile, for the nine-months ended December 31, 2015 the group posted a net profit of Rs.1.42 billion (EPS of Rs.3.49), down 35.5 percent yoy. The revenue was down 28 percent or Rs.7.1 billion to Rs.18.4 billion. The Aitken Spence share however closed 10 cents or 0.12 percent higher at Rs.82.60 at last week's close. It appears that the issues that have been haunting the diversified conglomerate with interests in tourism and leisure, power & energy and maritime and logistics for sometime, have continued in the quarter under review as well. During the nine months, the group strategic investment segment which captures its power segment recorded a net loss of Rs.70.3 million, against a net profit of Rs.598.3 million, a year ago. There was a plunge in segmental revenue to the tune of Rs.7.3 billion to Rs.3.3 billion.
"The revenue loss from the cessation of the power purchase agreement of Ace Power Embilipitiya in April 2015 had a significant effect on the results," a statement from the company said. The Power Purchase Agreement (PPA) of Spence's 100 Megawatt (MW) thermal power plant in Embilipitiya which ceased operations in April 2015 was not extended by the Ceylon Electricity Board (CEB) due to the lower demand for costly oil-fired power plants and the country's increasing power capacity through the recently added Norochcholai coal power plant.
The company is in negotiations with foreign parties from India, Pakistan and South Africa to sell the plant. Spence's 20 MW each thermal power plants in Matara and Horana too had to be sold to an Australian linked party and a Pakistani buyer, respectively, during 4Q14 and 2Q15 for similar reasons. The group's power sector now consists of only a 2.5 MW mini-hydro power plant in Matale and a 3 MW wind power plant in Ambewela. Meanwhile, the group's tourism business continued to suffer due to, "Diminished returns from the Maldives due to external factors and consolidation of hotel investments in Sri Lanka, negatively affected the returns from the tourism sector", said Deputy Chairman and Managing Director of Aitken Spence, J.M.S Brito. Aitken Spence owns and operates hotels in Sri Lanka, India, Maldives and Oman.
John Keells Holdings which also operates hotels in Maldives said the arrivals into the archipelago were negatively impacted due to the political uncertainties and the travel advisory. Spence's after-tax profit of the tourism sector declined by 31.6 percent yoy to Rs.1.32 billion while the top line remaining largely unchanged at Rs.9.3 billion. The group subsidiary, Aitken Spence Hotels International (Pvt) Ltd entered into an agreement to acquire Al Falaj Hotel in Oman at a price of Omani Riyals 14 million from Oman Hotel and Tourism Co., subject to obtaining all relevant approvals. Al Falaj Hotel has been under the management of Aitken Spence since 2008.
Further, the group's hotels arm recently completed a 100-room extension to its beach property in Kalutara, which is now a 200-room upgraded resort. In addition, the company is currently overseeing two large hotel projects in Negombo and Ahungalla. Meanwhile, the only segment which showed an uptick was the group's maritime and logistics sector of which the net profits rose by as much as 77.5 percent yoy to Rs.738.2 million on virtually flat revenue. "We are pleased to report increase in profits from companies in the port management, ship agency and airline sub sectors which contributed towards the profits of the maritime & logistics sector." Brito added. Subsequent to the balance sheet date, Aitken Spence PLC after obtaining all relevant approvals purchased a 20 percent shareholding in Fiji Ports Corporation Limited, for US $ 16.1 million (Rs.2.3 billion).
The company, which was previously wholly owned by the Government of the Republic of Fiji, owns and manages all ports in Fiji. Aitken Spence further said the depreciation of the rupee had affected the profits due to foreign currency loans taken for overseas investments costing the group more. Further, the group and the company had paid Rs.319.3 million and Rs.33.8 million, respectively, in respect of the retrospective super gains tax slapped on the corporates which earned an after-tax profit of Rs.2 billion or above by the new regime last year. "The company was also significantly affected by the substantial super gain tax paid during the quarter ended December 31, 2015," the statement added. As of December 31, 2015 Melstacorp (Private) Limited, the investment arm of Harry Jayawardena held 43.11 percent stake while Rubicond Enterprises Limited held 16.25 percent of the group. Employees' Provident Fund held 4.38 percent stake being the fourth largest shareholder.