---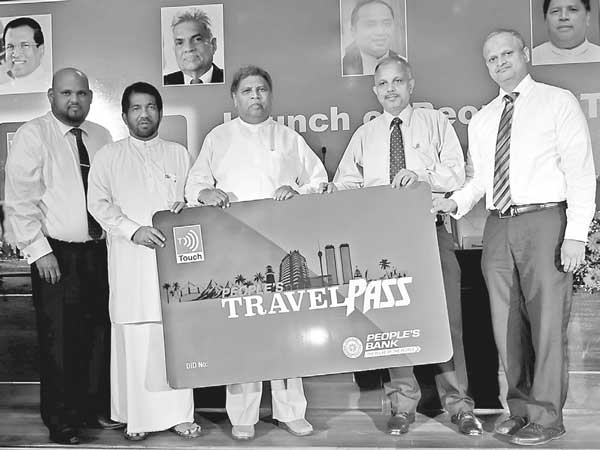 From left: Thusitha Nuwan Wanigaratne - Chairman Western Province Provincial Road Passenger Transport Authority, Ranjith Somawansa - Western Province Minister of Education, Lalith Wanigaratne - Western Province Minister of Transport, M.Wasantha Kumar - CEO/GM People's Bank andF ariq Cader.V ice President - Digital Services atD ialogA xiata PLC.
""By Supun Dias The all new peoples touch t r a v e l p a s s l a u n c h e d b y P e o p l es Bank in collaboration with Dialog Axiata PLC is a step forward in regulating future passenger transport as well as safeguarding commuter security.
"The sophisticated data base provided by the new travel pass will help to regulate passenger transport and would also provide accurate data such as the daily income, number of passengers, number of buses which are some of the data that cannot be gathered accurately," said Fariq Cader, Vice President Digital Services at Dialog Axiata PLC. For the bus owners, this method gives the opportunity to monitor the amount collected by the conductors, since the amounts are automatically updated on their bank account. Furthermore, this will also mean the owners can show this daily income report to the banks whenever they need to obtain loans.
The mechanism was introduced earlier to address the commuters' frequent complaint of not receiving balance money properly from private buses in selected passenger routes which had the highest number of buses and passengers. However in order to reach commuters across the country, the need to introduce a new sophisticated touch travel pass came into the context. S p e a k i n g a t t h e e v e n t Western Provincial Council Minister of Education Ranjith Somawansa said that it is another commendable effort taken by Peoples Bank together with Dialog Axiata PLC. He proposed the stakeholders involved in the project to provide the new touch travel pass for school children at a discounted rate. Western Province Minister of Transport Lalith Wanigaratne said that such mechanisms are vital to develop the transport sector as a whole, and with the trust that people have in place for 'Peoples Bank – The Pulse of the People', the new touch travel pass will reach and embrace the majority of commuters within a short period of time.
The Touch Travel Pass is an electronic pre-paid travel card that allows passengers to make payments for bus tickets without the hassle of carrying cash. Bus conductors presented with the Touch travel Pass would tap the card on a ticketing machine, which in turn would debit the ticket fee from the available credit on the Touch Travel Pass. Passengers can purchase reloadable cards and top up at the Dialog Arcade and selected retailer outlets across the island in addition; the Touch Travel Pass system also allows private bus operators to receive daily updates on transactions via SMS.