---
By Chandeepa Wettasinghe
The government is making decisions without doing proper research, specially in the case of the country's thrust areas of infrastructure development and trade policy, Sri Lankan President's Economic Advisor Dr.Sarath Rajapatirana said last week.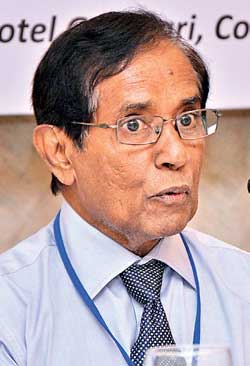 "The issue is policy informed by research. There's no dialogue between the research community and policy makers. I see this as a huge gap between the two parties," Dr. Rajapatirana told a forum titled 'International Conference on Human Capital, Food Security and Economic Development in South Asia', hosted by the Institute of Policy Studies (IPS) and Monash University, in Colombo.
Dr. Rajapatirana, who is a highly regarded expert in trade policy, internationally, noted that the government's main agenda, trade reforms and negotiations, are done without research.
"In a way, politicians are—what is the word? Scared is not the word—shy of researchers. Why can't they get these people (researchers) interested, and to see what they have done on trade policy? Short-sighted is another term," he quipped.
Sri Lanka is currently negotiating trade pacts with India, China and Singapore, and is considering entering into negotiations for trade pacts with at least another half a dozen countries.
However, the government is facing much opposition in this exercise from various quarters, including academics, industrialists, professional organizations, specially against closer economic ties with India and China, which are leading global growth.
Some research and commerce institutions with liberal leanings have been supporting the trade negotiations, perhaps due to the liberal stance of Prime Minister Ranil Wickremesinghe, despite the disinclination of larger economies to provide favourable terms for Sri Lanka.
Trade pacts with China and India are being viewed by some experts as geopolitical, with economic benefits taking a rear seat.
While Development Strategies and International Trade Minister Malik Samarawickrama had promised a national trade policy prior to engaging in negotiations, such policies have so far not been, at least, publicly unveiled.
Further, the Right to Information Bill absolves the government from the duty of informing the public about developments in trade negotiations.
Finance Minister Ravi Karunanayake recently admitted that the government may be flawed in the communication of its policies to the public. Even President Maithripala Sirisena was quoted as saying that he only learns of some of policies of his government after reading them in the newspaper.
Meanwhile, Dr. Rajapatirana said that politicians are suspicious of academics, while academics too have been narrow-minded at times.
He said that there is little to no local research done on Sri Lanka's total factor productivity (TFP), and that research on the subject has been done in Iowa, USA, for the past 30 years, which shows Sri Lanka's TFP has been just 1 percent during the entire period.
"Now we are investing a huge amount of money in infrastructure and we are hoping to do more.
And the point is that we are wasting. Because for the sake of argument, if we can get 2.5 percent (TFP), which is the average for countries of our income levels, institutions and other structures, we can get such a bang for our investments. But who's going to do the research? Nobody here has done it," he said.
Spending excessively on infrastructure has been a concern both during the past and the current governments, with allegations of corruption taking the limelight. Further, most of the infrastructure projects were financed by borrowed moneys from foreign sources at commercial rates.
"We have come to a point where we are going to make decisions without input from others," Dr. Rajapatirana said.
This statement was highlighted earlier in January, when Tourism Development, Land and Christian Affairs Ministry Secretary Janaka Sugathadasa said that a Rs.800 million tourism promotions campaign had been forwarded for Cabinet approval, while admitting that no research has been done for a campaign of such magnitude.
However, Dr. Rajapatirana said that the current unity government presents the best chance for Sri Lanka to transition back towards policy informed by research.
"We have come to a point where we need many policy changes. We have done them in the past but they have not been very successful. We have a chance now to do it," he said.
Meanwhile, he said that countries should learn from each other as well, and that India could have implemented demonetization better if it had called for expertise from Sri Lanka, which has done the exercise successfully in the past.