---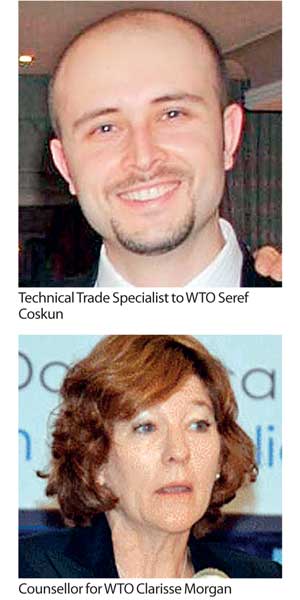 As Sri Lanka trade readies to further open to China and India, two top officials from Geneva are in Colombo to brief the keen Lankan officials and business sector on safeguard measures.
The World Trade Organisation (WTO) reps, Clarisse Morgan and Seref Coskun, will meet Lankans today at a special session organised by the Department of Commerce (DoC) of Sri Lanka on 'Awareness programme on the proposed Trade Remedies Legislation of Sri Lanka' to be held at the Chamber of Commerce.

The reps will take part and highlight on the domestic safeguards to be implemented as the country's trade is liberalized further.
The programme will be held today at the auditorium of the Ceylon Chamber of Commerce from 9:00 a.m. to 12:30 p.m.