---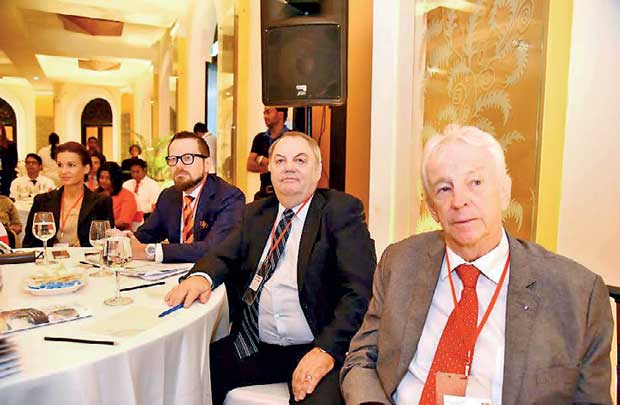 Visiting Danish delegates receiving insights on local trading environment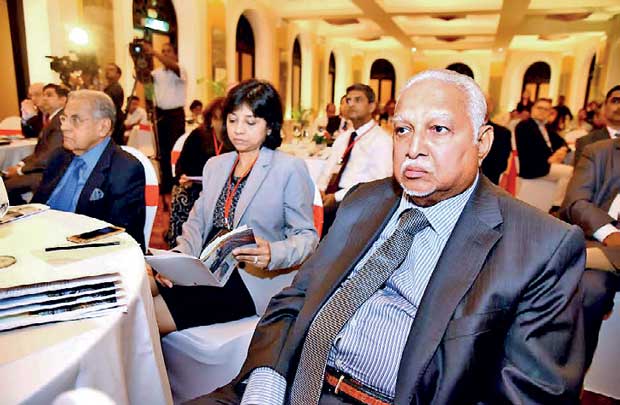 Sri Lankan corporate leaders at the event
Pix by Kithsiri De Mel
By Shabiya Ali Ahlam
On the lookout for opportunities to support the island nation's growth agenda, a high-profile Danish delegation in Colombo yesterday received a comprehensive briefing on operating and trading in Sri Lanka, an effort by the European Chamber of Commerce of Sri Lanka (ECCSL) to increase ties between the two nations.
Fourteen Danish entities, which are world leaders in their respective line of business, are in Sri Lanka on a three-day deliberation that would focus on water, energy and infrastructure. The Confederation of Danish Industry stated it is confident the line of business each venture represents would offer solutions to a range of challenges in Sri Lanka.
Under the programme titled 'Danish Days in Sri Lanka', in addition to gaining fine firsthand knowledge from the relevant authorities on the island nation's macro and microeconomic environment, the delegation is set to meet with public and private sector stakeholders with interest in exploring possible avenues for partnership.
Speaking on the significance of the event, Danish Ambassador to India and Sri Lanka Peter Taksoe Jensen expressed confidence in the delegation strengthening the Sri Lankan-Danish commercial ties in a manner that allow both countries to reap benefits. "We see this business delegation from Denmark to Colombo as a natural and a very positive development and we look forward to seeing concrete results," said Jensen to a fully-packed audience consisting of top local business profiles in addition to the visiting Danish delegates. During his address, Jensen acknowledged that Sri Lanka is an economy in transition where the purchasing power parity has doubled. He went on to stress that the political landscape has stabilized unlike in the recent past and investment in infrastructure and energy projects are high on the agenda in the coming years.
"The government of Sri Lanka is working hard to ensure the democratic and economic development of the country, so that businesses and citizens are able to enjoy the real economic potential that Sri Lanka has," he noted.
It was expressed that Denmark "wishes to support the positive development process" that has been initiated by the government, which according to the envoy, can be done both politically and commercially.
"In this context, it is important to keep in mind that democratic reforms have a positive impact on the inflow of investments by large foreign investors, who require democratic stability as well as political and economic predictability.
I have the utmost admiration and respect for the progress that the Sri Lankan government has made already in this regard," stated the ambassador.
The ambassador stressed that with Denmark being a small open economy that is highly dependent on foreign trade, investments and "good external trade relations" are the driving forces for its business sectors.
Sri Lanka and Denmark have a long history of cooperation as Danish development aid was previously used across several sectors, including port construction projects and projects in the fishing industry.
---
Visiting Danish companies
Babcock & Wilcox Volund (clean-tech)
Cowi (waste management)
Cre8o (business development and innovation for SMEs)
Dairy Tech (engineering)
The Danfoss Group (engineering)
Dong Energy (clean-tech)
Grundfos (water technology)
Investment Fund for Developing Countries
IFU (risk capital and advice)
Kosan Crisplant A/S (machinery)
Maersk (transport and logistics)
Odense Maritime Technology (design of cost-effective ships)
Rohde-Nielsen (dredging)
Terma (defence and aerospace solutions)
Vestas Wind Systems (wind power solutions)