---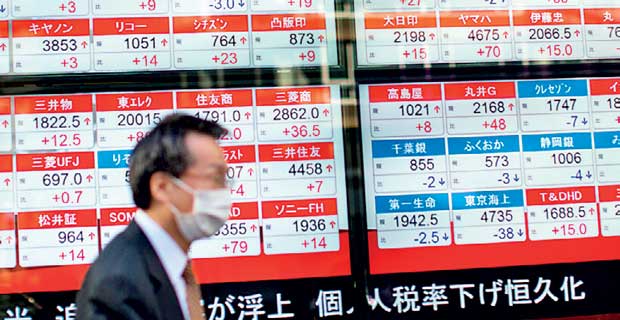 A pedestrian walks past a stock indicator showing share prices of Japanese companies
AFP: Japanese stocks led the way in Asia yesterday, climbing higher following a rally on Wall Street but the majority of Asian markets were closed for the Easter holiday.

Easing tensions on the Korean peninsula, with the two Koreas setting the date for a rare inter-Korean summit in April, also buoyed investor sentiment.

Among the few markets trading in Asia, Tokyo closed 1.4 percent higher, Seoul rose 0.4 percent and Shanghai added 0.3 percent.

Financial markets in Australia, India, Indonesia, the Philippines, Singapore, New Zealand and Hong Kong were closed for public holidays.
"Further easing of tension over North Korea has contributed to improving investor sentiment," said Toshihiko Matsuno at the investor information division of SMBC Nikko Securities.

Japanese stocks also followed the lead from Wall Street where a rally in technology shares drove the Dow Jones index to close up 1.1 percent ahead of the long Easter holiday weekend.

The mood on financial markets had soured significantly this week with technology giant Facebook under pressure over privacy concerns and reignited fears of a global trade war.

Despite Thursday's gains on Wall Street, the Dow and S&P 500 finished with losses for the quarter. The S&P 500 declined 1.2 percent, its first loss since the third quarter of 2015.

But traders in the US and Europe went into the long Easter weekend in a buoyant mood although analysts attributed some of the bounce to profit-taking on tech stocks after a bloody week.
"The onset of the Easter holiday encouraged investors to take a well-deserved breather," said Jasper Lawler, head of research at London Capital Group.

Looking further ahead, analysts in Japan said they would be closely monitoring the "tankan" quarterly business confidence survey on Monday.
"We want to check the impact of the recent strong yen on corporate sentiment," Yoshihiro Okumura, general manager at Chibagin Asset Management, told AFP, adding that investors would also be looking at US payroll figures yesterday.