---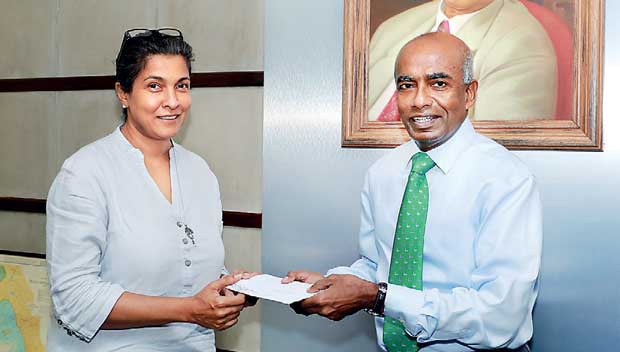 From right: Tokyo Cement Company (Lanka) PLC Managing Director S.R. Gnanam hands over the sponsorship contribution to The Music Project Trustee Shalini Wickramasuriya
Tokyo Cement announced partnering with The Music Project, a non-profit initiative dedicated to empowering and uplifting the lives of children through music.
The partnership will see Tokyo Cement sponsoring three schools – two in Mullaitivu and another from Mawathagama, Kurunegala, to further their music education. Nearly 140 students from Yohapuram MV and Therankandal MV of Mullaitivu and 50 students from Gunananda MV of Kurunegala will benefit from this collaboration that will enhance their music education during the year 2017.
Speaking on the occasion of forming the funding partnership, Tokyo Cement Company (Lanka) PLC Managing Director S.R. Gnanam said, "The Music Project aims to unite communities through children who love to learn music. By working with farming communities in the North and South of Sri Lanka who come from similar backgrounds, the project links these families who unanimously want to create better opportunities for their children, regardless of their race or religion.
Not just in music, the programme aspires to develop finer values in these children through respect for each other as they strive to achieve greater goals. We, at Tokyo Cement, are proud to be part of this far-reaching endeavour and hope to see these children reach their highest potential by tapping into their musical genius."
Now in its fifth year, The Music Project aims to make music accessible to children from all corners of the country who do not have access to required facilities. In addition to the many events and venues at which the children get to perform, it also conducts residential programmes alternatively in Kurunegala and Mullaitivu, giving the children of two formerly divided communities an opportunity to connect as a family united in music. The children of the North and South work alongside their peers, sharing musical scores and their lives while working and practicing together to make the orchestra happen.
At Therankandal MV in Mallavi, Mullaitivu currently 40 students practice during sessions conducted every Friday before the commencement of school. The heart-warming sight of young children accompanied by their parents from various walks of life, bustling to take their seats inside the meagre common room early morning is encouragement enough for the young teachers and volunteer instructors conducting the programme.
During the sessions, these students learn to play orchestral instruments including the recorder, flute, violin, cello, trumpet, clarinet and a wide variety percussion instruments. They have the benefit of learning from specialist instructors dedicated to the project as well as volunteers who visit from various parts of the world, who whet their appetite to learn the universal language that breaks all forms of barriers.
"The Music Project, inspired by El Sisitema of Venezuela, aims to create opportunities for children to learn music through holistic teaching methods. We hope that the programme is a stepping stone for the children to be able to make choices or simply avail of a passion. We trust that orchestral participation instils valuable life skills such as collaboration, creativity, a sense of performance and thereby confidence and motivation.
We also feel that in the absence of an effective link language, the project has the potential, through music, to be platform to forge connections between the children of diverse communities. The programme has two locations in the north and south of Sri Lanka and we hope that the children of two farming communities would feel part of a global music community and their broadened horizons would enable them to fulfil a passion," said The Music Project Trustee Shalini Wickramasuriya, commenting on the benefits of the initiative.
The project is made possible by the generous contributions by philanthropists and leading corporations who believe in the power of music to heal and to bridge divides. Tokyo Cement comes forward as a sponsor this year, owing to their belief in building the foundation for tomorrow's leaders through programmes such as this that encourage children to explore the world using exciting new tools and not be limited by standardised education.
Tokyo Cement has successfully integrated social welfare and environmental conservation into its corporate DNA and is on a continuous mission to enrich the country, its people and the environment. Its commitment to social responsibility breathes life through initiatives such as the Tokyo Cement Schools Super Quiz programme, the AYS Gnanam Construction Training Academy in Dambulla, which offers technical qualifications and accreditations to masons and builders and the partnership with the Foundation of Goodness, multiple environmental education programmes and impactful conservation drives such as Coral Reef Rehabilitation and Mangrove Reforestation.