---
ThyssenKrupp Elevator (Germany) brings 140 years of experience in vertical and horizontal transportation technology to Astoria the luxury condominium development at Colombo - 03.
AVIC International, the developer, has awarded the elevator and escalator contract to Scan Engineering, the Exclusive Distributor for Sri Lanka and Maldives, who will execute the Supply, Installation, Testing, Commissioning and Maintenance of the complete systems for the landmark project. AVIC is a state owned mega incorporation administrated by the Chinese Government whose investment was authorised by the country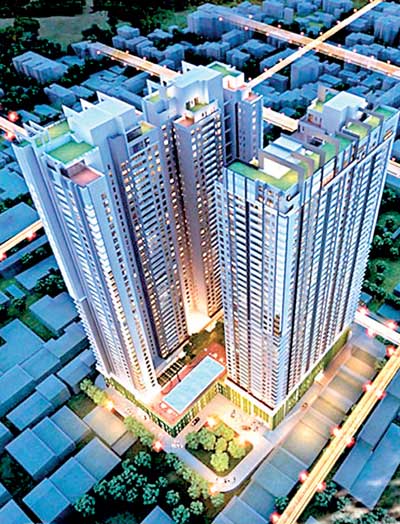 Astoria will be called home by more than 2,000 residents and the project consists of four towers each with 42 floors featuring 602 luxury apartments. Astoria is situated in the heart of the commercial capital of Sri Lanka – in Colombo 3, just mere minutes away from the country's leading commercial establishments, educational institutions, hotels, restaurants, retailers, and residencies. This unique location contributes immensely to Astoria's vision of offering a one-stop service experience for both its consumers and residents with retail, dining, entertainment and luxury apartments in one project.
ThyssenKrupp Elevator will manufacture and supply 16 elevators and 2 outdoor escalators for the project. The high speed tower elevators will reach a top speed of 3.5 meters per second making them some of the fastest elevators in Sri Lanka. ThyssenKrupp Elevator's product range includes Elevators (Machine Room Type and Machine Room Less), Escalators, Moving Walks and Airplane Passenger Boarding Bridges.
The products are renowned for reliability, safety and for being at the forefront of innovation with unique products not available to any other manufacturer. These include TWIN (2 independent Elevators in 1 shaft), Turbo Track (multi speed, long distance moving walk) and recently MULTI which will be the evolution of Elevators allowing both vertical & horizontal movement and utilizing a rope-free system similar to that of magnetic levitation as seen in high speed train systems.
Scan Engineering with 21 years experience as a Mechanical & Electrical Engineering company consists of three major divisions and also represents DAIKIN Air Conditioners (Japan) as a Dealer, GOSS International (USA) as an Exclusive Distributor for high speed newspaper printing presses and FERAG (Switzerland) as an Exclusive Distributor for post-press and mail room solutions.
The Elevator Division has already achieved sales of close to 200 Elevators in a short period. The clients include Havelock City (Phase 2 & Club House), Marriott Resort & Spa, OZO Kandy, AMARI Resorts, Damro, Urban Development Authority, ExpoLanka, Dilmah, Zam Gems and Sampath Bank.
Scan Engineering's Director of Business Development Pavithra Abeynayake said, "We have expanded our product portfolio by engaging with ThyssenKrupp which is a Fortune 500 German conglomerate. With the progress of post-conflict Sri Lanka, we are better enabled to cater to the needs of the construction industry particularly the more demanding buildings which are taller and require aerodynamic high speed Elevators. ThyssenKrupp Elevator is at an advantage when the project's requirements are more complex".
International reference projects include the new "One World Trade Center" in New York (73 Elevators, 11 Escalators) and the "Shanghai World Financial Center" (44 Elevators) which are both over 100 floors and are served by Elevators travelling at 10 meters per second.
Large quantities of Elevator & Escalator systems have also been Supplied and Installed at China's Beijing Metro (1000 units), Spain's Barcelona Metro (600 units) and the Keangnam Hanoi Landmark Tower (64 units).
ThyssenKrupp Elevator is also noted for many International Airport references since they are able to provide Airplane Passenger Boarding Bridges as a package. Dubai International (over 700 units), Hamad International Qatar (472 units) & Delhi International (204 units) are just some of the many airport references which span the globe from Toronto, Madrid to Shanghai.