---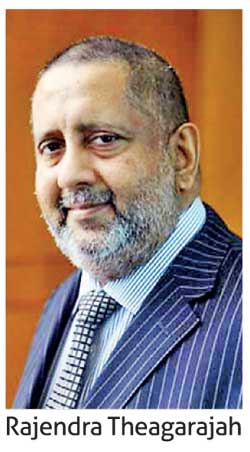 Theagarajah is not a stranger to Cargills Bank having joined and served as its Non-Executive Joint Deputy Chairman since December 2016.

With this appointment, he will play a pivotal role in executing strategy and delivering the bank's business plan, which includes a road map for a listing at a future point in time.

His predecessor Prabhu Mathavan, who successfully completed his tenure as MD/CEO will continue to be a member of the board as an Executive Director supporting the business units by overseeing a strong framework of support services, including the financial control and reporting functions.

He had served Cargills Bank from its inception having been its Deputy CEO/Chief Finance Officer and subsequently
MD/CEO.

Under the leadership of Mathavan, Cargills Bank achieved two key milestones — fulfilment of the Central Bank of Sri Lanka Tier I capital requirement of Rs.10 billion in 2016 and recording profitability from the third quarter 2016.
Theagarajah is a veteran banker with a wealth of experience in the banking and financial services sector and counts over 34 years in banking both locally and internationally.

Prior to joining Cargills Bank, he functioned as CEO of National Development Bank PLC for three years, during which, the bank was awarded the much-coveted 'Best Bank in Sri Lanka' by the Global Finance Magazine in 2015.

Prior to that, he served as CEO/MD at Hatton National Bank PLC for nine years.

During this tenure, the bank was recognized as the Best Retail Bank in Sri Lanka for seven successive years (2006-13) and was also personally recognized for outstanding Leadership in Banking twice in 2010 and 2013 by the Asian Banker.

Theagarajah currently serves as Chairman of the Ceylon Chamber of Commerce. He is also as an Independent Non-Executive Director of Carson Cumberbatch PLC.
He was a past Chairman of Sri Lanka Bankers' Association (Guarantee) Ltd and Financial Ombudsman Sri Lanka (Guarantee) Ltd, former Director of the Colombo Stock Exchange and former Chairman of the Asian Bankers' Association.

He has also served as a Council Member of the Sri Lanka Institute of Directors. Further, he has served as Chairman of the Chartered Institute of Management Accountants (UK) Sri Lanka Governing Board and also as a member of CIMA UK's Global Council.

Commenting on the new appointment, Cargills Bank Limited Chairman Louis Page stated, "We are delighted to have Theagarajah lead the management team and drive a clearly defined business plan, which includes an eventual listing of the bank shares in the Colombo Stock Exchange.

We strongly believe that the young management team will benefit immensely from his experience and wide knowledge. We are also very grateful to Mathavan, who stepped in and played the role of CEO during a period when the bank consolidated its operations."

Cargills Bank is a dynamic presence with extensive use of digital and agent channels. With a vision to be the most inclusive bank in the country, it offers a range of products and services through its growing islandwide branch network and over 300 Cargills Food City outlets, as well as its award-winning digital channels, including Cargills Cash. Customers have access to a full range of banking and financial services including private, retail, SME, agri, trade finance, treasury and mid markets.
With this new appointment, the Cargills Bank directorate comprises Chairman Louis Page, Deputy Chairman Ranjit Page, MD/CEO Rajendra Theagarajah, Executive Director Prabhu Mathavan, Senior Director Mangala Boyagoda, Kamalini De Silva, Faizal Salieh and Richard Ebell.