---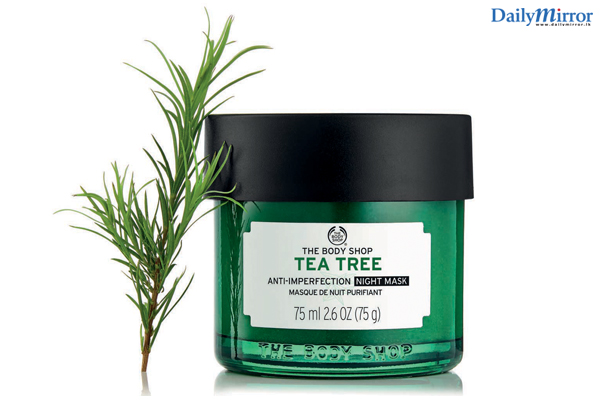 Dreaming of waking up to skin that feels smoother, healthier and fresher? Then The Body Shop's Tea Tree Anti-Imperfection Night Mask is for you. The revolutionary product-the first and best of its kind-was launched at The Body Shop outlets in Sri Lanka this month.
The Body Shop's iconic Tea Tree range is trusted by thousands of women across the world, who turn to the products to address problem skin prone to blemishes and blackheads. The Community Trade organic Tea Tree oil used by the brand has been clinically proven to yield clearer skin from the first week of use. Products in the range also use Tamanu oil extract to help generate new tissue and improve the healing process for skin.
The Tea Tree Anti-Imperfection Night Mask is the first sleeping mask designed to help women and men care for blemished skin concerns overnight. The mask is a cooling memory-gel texture infused with the key active ingredient-tea tree oil sourced from the Kenya Organic Oil Farm Association. This ingredient is renowned for its powerful antiseptic and anti-inflammatory properties, which makes it an essential oil and a popular ingredient in skincare products. The Anti-Imperfection Night Mask combines this oil with salicylic acid to resurface and reduce imperfections.
The mask reduces imperfections overnight whilst soothing, controlling excess oil and resurfacing. With continued nightly use this mask also reduces other concerns such as enlarged pores. The combination of the key active ingredient with salicylic acid leads to time-release particles that ensures overnight mattifying excess sebum control. The formula is 100% vegan, formulated without alcohol, is non-comedogenic and does not stain.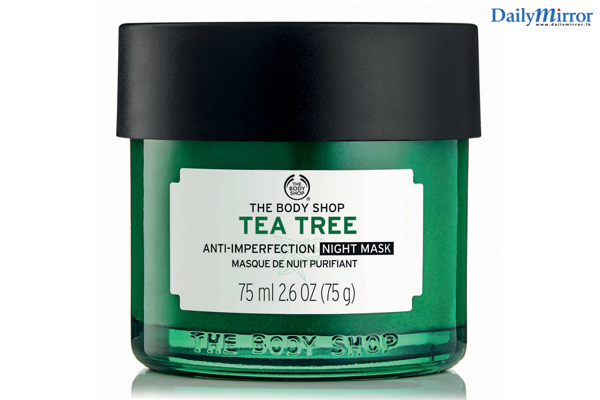 The Anti-Imperfection Night Mask is best used after the 123 Tea Tree Routine (cleanser, toner and oil). Apply a layer of the product over the face and leave on to absorb overnight. It's easy to apply-just use clean fingers, or choose The Body Shop Expert Mask Brush. The benefits are multifold-instantly, skin will feel refreshed and soothed from the breathable non-sticky texture. Overnight, imperfection size is reduced and skin looks healthier, smoother and shine-free. With regular use, pores and marks are reduced and the formula helps to prevent imperfections in addition to solving them.
Blemished skin sebum levels have been reported to peak at 4 am, so an overnight mask means being able to clock in your beauty sleep and tackle the problem at the same time.
The Tea Tree range is available at The Body Shop flagship store on Bagatale Road and Odel on Alexandra Place.